Episode 193: "It is not only influential people whose voices are needed — all of our voices are needed."
By Jasmin and Mariann — September 21, 2013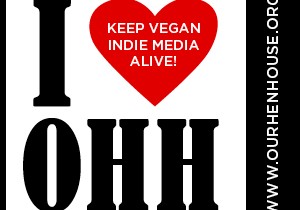 Podcast: Play in new window | Download
Subscribe: Spotify | Stitcher | TuneIn | RSS
Welcome to the 193rd episode of Our Hen House, featuring Yossi Wolfson [transcript], with a review by Ari Solomon.
In today's episode, we give you our thoughts on a ridiculous article in Grist that seriously barked up the wrong tree; a new Chipotle ad that, on one hand, is completely wonderful, and on the other, is missing the point entirely; a new campaign to save the lives of unwanted dogs that is unlike anything we've ever seen before; the latest on vegans creating a stink in the news; and a new challenge from Our Hen House that is completely thrilling for us, but we need your help, chickens!
Joining us today is Israeli activist and lawyer Yossi Wolfson, who has been active in the animal rights movement since the 1980s. Yossi – who co-founded Anonymous for Animal Rights – will get us up to speed on the amazing things going on with the movement to end animal exploitation in Israel.
For our review, we welcome back to Our Hen House darling Ari Solomon, who will give us his take on the horror film, The Bay, which has surprising animal rights themes throughout it. (Plus, it's completely adorable to listen to Ari review a horror movie, since he usually avoids them at all costs.)
All that, vegan banter, and of course, current events from the world of animal rights.
For a list of the news items we discuss in today's episode, and then some, take a look at the breaking news ticker at the top of the page, and also check out our list of archived news items.
You can listen to our podcast directly on our website (beneath this paragraph!) or you can listen and subscribe on iTunes or Stitcher! Also, if you like what you hear, please rate it on iTunes, and don't forget to leave us a friendly comment! Of course, we would be thrilled if you would also consider making a donation, or becoming a member of our flock (especially if you're a regular listener). Any amount is hugely appreciated, and Our Hen House is a 501(c)(3) nonprofit organization, so it's tax-deductible! You can also dedicate a podcast episode! Don't forget – we're reader and listener supported. Plus, we offer some fantastic thank you gifts for your donations. Lastly, we are excited to be able to offer you written transcriptions of our podcast interviews (beginning with Episode 188). Thank you for helping us to create quality content, and for helping us to bring you a new podcast episode each week!
"It is not only influential people whose voices are needed — all of our voices are needed." -Dr. Jane Goodall