Episode 200: "Whenever we engage in consumption or production patterns which take more than we need, we are engaging in violence."
By Jasmin and Mariann — November 09, 2013
Podcast: Play in new window | Download
Subscribe: Spotify | Stitcher | TuneIn | RSS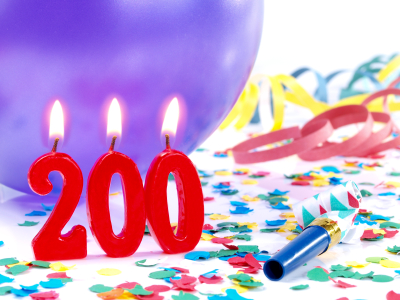 Welcome to the 200th episode of Our Hen House, featuring dead prez's stic.man, and Afya Ibomu [transcript of stic.man and Afya Ibomu].
In today's extra special anniversary episode, we talk about Nicholas Kristof's self-proclaimed "ambivalence," A Vegan Taste of Chinatown, and the new animated feature, Free Birds – which tells the story of a turkey who goes back in time to change the course of Thanksgiving to get turkeys off the plate. We'll let you know what we thought of the film, and in our discussion, we'll bring up some "Rising Anxieties" – this time courtesy of Slate – specifically regarding one writer's desire to put his hands over his ears and scream "LALALALALALA, I CAN'T HEAR YOU!" We'll also ruminate on Russell Simmons speaking up for horses, and all three major NYC papers doing the opposite. As a very special treat, in honor of our 200th episode, we will not only be hearing from some very special supporters and podcast listeners, but we will be also giving away a vegan gift package from our friends over at Lush to one lucky listener.
Joining us today is stic.man, the rapper, activist and author known best for his work as one half of the political hip hop duo dead prez – who will be joined by his wife Afya Ibomu, Holistic Nutritionist, Author, and the CEO of NATTRAL.com. Afya and stic will discuss with us how veganism and food politics are a crucial part of revolutionary change; how and why dead prez has focused its music on issues such as healthy living, food justice, global poverty, and the environment (and the reaction they've gotten to their advocacy); how Afya's book, The Vegan Soul Food Guide to the Galaxy, is more than a cookbook; and the harsh impact of corporate food (and how we can counter that). We'll also get some tips on raising healthy, vegan kids, and we'll get the skinny on Afya and stic's favorite breakfast. As a very special treat, they are sharing with us their new song, "Healthy Livin'," from the album The Workout.
For our review, Our Hen House's Darling Ari Solomon will join us as we take a kind of mind-blowing journey to the future, where Ari will tell us the top 10 people who went vegan from 2016 to 2063, where our time machine lands.
All that, vegan banter, and of course, current events from the world of animal rights.
For a list of the news items we discuss in today's episode, and then some, take a look at the breaking news ticker at the top of the page, and also check out our list of archived news items.
You can listen to our podcast directly on our website (beneath this paragraph!) or you can listen and subscribe on iTunes or Stitcher! Also, if you like what you hear, please rate it on iTunes, and don't forget to leave us a friendly comment! Of course, we would be thrilled if you would also consider making a donation, or becoming a member of our flock (especially if you're a regular listener). And here's an extra, exciting incentive — ALL donations, including flock memberships, between now and December 31 will be matched by our Barnyard Benefactors! Any amount is hugely appreciated, and Our Hen House is a 501(c)(3) nonprofit organization, so it's tax-deductible! You can also dedicate a podcast episode! Don't forget – we're reader and listener supported. Plus, we offer some fantastic thank you gifts for your donations. Lastly, we are excited to be able to offer you written transcriptions of our podcast interviews (beginning with Episode 188). Thank you for helping us create quality content, and for helping us bring you a new podcast episode each week!
"Whenever we engage in consumption or production patterns which take more than we need, we are engaging in violence." -Vandana Shiva
Comment with Facebook
comments