Episode 235: "There is no religion without love, and people may talk as much as they like about their religion, but if it does not teach them to be good and kind to man and beast, it is all a sham."
By Jasmin and Mariann — July 12, 2014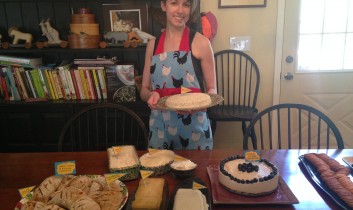 Podcast: Play in new window | Download
Subscribe: Spotify | Stitcher | TuneIn | RSS
Welcome to the 235th episode of Our Hen House, featuring Lizbeth Pratt [transcript], with a special review by Amanda Crow.
On today's episode, we chat about scoring free stuff on the street, Mariann's latest foray into ethically-sourced clothing, the concept of "freedom" and what that might mean for animals, the latest stupidity caused by the horse drawn carriage industry here in New York City, and an update about the Our Hen House TV show.
Joining us today will be Lizbeth Pratt, a former rancher turned animal rights activist who also transformed her business into a vegan wonderland. She has an important story to tell, and we're honored she's telling it today on Our Hen House.
Then, we'll be joined by Amanda Crow, who will be giving us her take on Miyoko Schinner's book, Artisan Vegan Cheese. Amanda has never made her own cheese before, so this will be a first all-around. We think you'll love what she has to say.
All that, vegan banter, and of course, current events from the world of animal rights.
You can listen to our podcast directly on our website (beneath this paragraph!) or you can listen and subscribe on iTunes or Stitcher! Also, if you like what you hear, please rate it on iTunes and Stitcher, and don't forget to leave us a friendly comment! Of course, we would be thrilled if you would also consider making a donation, or becoming a member of our flock (especially if you're a regular listener). Any amount is hugely appreciated and Our Hen House is a 501(c)(3) nonprofit organization, so it's tax-deductible! You can also dedicate a podcast episode! Don't forget – we're reader and listener supported. Plus, we offer some fantastic thank you gifts for your donations. Lastly, we are excited to be able to offer you written transcriptions of our podcast interviews (beginning with Episode 188). Thank you for helping us create quality content, and for helping us bring you a new podcast episode each week! For a list of the news items we discuss in today's episode, and then some, take a look at the breaking news ticker at the top of the page, and also check out our list of archived news items. The Our Hen House theme song is written and sung by the incredible Michael Harren.
"There is no religion without love, and people may talk as much as they like about their religion, but if it does not teach them to be good and kind to man and beast, it is all a sham." -Anna Sewell