Excerpt From Short Story, "Free Range," by John Yunker — Giveaway For Our Flock, Too!
By Visiting Animal — October 06, 2015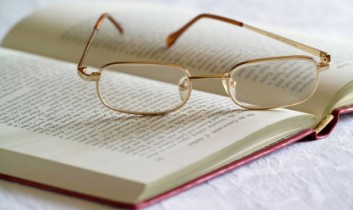 At Our Hen House, we do our best to bring you the latest from the world of animal rights. That said, when it comes to telling you about books and stories, there are just so many amazing new ones covering all kinds of animal issues, and we simply don't have time to review them all (but don't miss the ones we have reviewed). That's why we thought long and hard and decided to bring you this exciting program. From time to time, we'll publish excerpts — highlighting the best in animal rights books (both fiction and non) — right here on our online magazine. Today, we're so lucky that author and playwright John Yunker is sharing an excerpt with us from his story, "Free Range," published in full on Flyaway.
[One general note about OHH's intention to publish excerpts: We do our best to choose excerpts from books and stories that reflect our values to change the world for animals, and to end their exploitation altogether. However, we are not able to read all of these books in their entirety, and so please note that the books we choose do indeed intrigue us, but might not fully be in line with our ethos — though we hope they are. In other words, vet these for yourselves, and feel free to share your thoughts with us at by emailing info [at] ourhenhouse [dot] org.]
We are so grateful that one of our favorite writers, John Yunker, is sharing this piece of his story with Our Hen House readers today. If you're a flock member, read on beneath the excerpt for a chance to win one of our favorite novels, The Tourist Trail, by John Yunker (there's some pretty stellar animal rights themes in this book). Note: US residents will have the option of getting an e-copy or a physical one, and those outside the US will receive an e-copy.
Not a flock member yet? Join us, for the animals! We'll send you an ethically-sourced, snazzy-looking, Our Hen House tote bag just for joining — it touts our tag line: Change the world for animals. We'll also set you up with login info so that you, too, can access exclusive flock-only content, contests, and giveaways (such as today's). And you'll be invited to join the OHH private Facebook group, which — we gotta say — is pretty fantastic and inspiring. Finally, by joining the OHH flock, you'll be helping us to create all media for all animals. Whatcha waiting for? It's tax-deductible too, y'all. 
***
Our society's addiction to eating animals is leading our planet, inexorably, to a dark future. "Free Range," published in full on Flyaway, explores what this future might look like — as well as what the new version of "animal activists" might look like. And if, someday, we learn to protect farm animals — and, by extension, the environment — the future may not be so dark after all.
***
Excerpt from the short story, "Free Range" — by John Yunker
(Published in full on Flyaway)
When Nod tells me he found a supplier, I figure he's putting me on. I give him the $100 I promised, thinking I'll get it back.
"No wings for you," Nod says. He is footing the other $400.
We sit around my apartment until after 1 a.m. We leave our phones behind, as instructed. Nod has an ancient electric car that smells like spent fireworks, but I have no car so I can't complain. We drive north of the city. From six lanes to two, then gravel. I don't ask if he knows where he's going; I just stare out into the darkness thinking about what it must be like to live out here, and what the world looked like before the change. I'm starting to fade when I hear branches scraping both sides of the car. Nod stops. The headlights light up the skeleton of an old, collapsing farmhouse.
"Come on," he says.
"Are you sure this is safe?"
"Nope." He laughs as he gets out. Then he lopes ahead, all eager and secret agent–like. Having participated with Nod in a number of derelict acts over the years—graffiti and gas lifting—I was always comforted by how excited he got. While I was scared shitless at the idea of getting caught, he would be prancing around like he scored free tickets to a metal concert. But this time is different. I mean, what do we know about animal activism? This is serious. Life-in-prison serious.
I stop just before the front steps and shine a flashlight around. The windows and the front door are missing. Off to one side of the house are a few rusted car bodies and tires scattered about. Nod hops on top of an old washing machine and plays lookout.
"This was farmland once," he says. "It's all federal land now. Planted trees everywhere. Damn climate Nazis."
There is a flash of light from inside the house, like from a match, and my stomach sinks as I realize I will not be getting my money back.
I follow Nod inside. Standing in a room that was once a kitchen is a large man dressed in black, wearing a cheap plastic mask of President Sanderson.
"Like your costume," Nod says. "That what they call irony?" Sanderson outlawed meat consumption back before we were born. Nod has a dartboard in his room with the man's face on it.
"Raise your arms, the both of you."
"What for?"
"Need to see if you're chipped."
"We're clean," Nod says, as the man scans our bodies with a handheld device.
"What does it matter if we are?" I ask.
"If you are, you come a long way for nothing."
Nod looks over at me and grins. I know what he's thinking, that if he had joined the military he'd be unable to do this, because they chip you upon entry. So do prisons. Government jobs. Big companies. But when you're like us, still relatively young and in half-assed pursuit of our first full-time employment, you're probably still free of any tracking device. I imagine how Nod will use this rationale to keep from ever getting a steady job.
Nod takes the pocketknife out of his hip pocket when the device protests.
"For later," Nod says.
The masked man puts the device in a canvas army surplus bag on the floor, then he removes two white chickens, legs tied together, and he hangs them from a piece of wire dangling from the ceiling.
I shine my light on their red heads, looking for eyes. Tiny white feathers fall like snow to the floor. This is the first time I've seen chickens this close.
"Free range, grain fed," the man says. "From Idaho."
Nod grunts approvingly.
"Are they alive?" I ask.
"Sure they're alive." He pokes one hard in its belly, and it springs to life, flapping its wings, feathers scattering. "Hanging like this calms them," he says. "So does the dark. You want 'em relaxed right up until the end."
Nod takes out the cash and hands it over. The man counts it, pockets it.
"Bon appétit."
The man steps into a doorway I didn't realize existed and is gone. I wonder if he lives here or in some cabin in the woods or if he has a car parked somewhere and a house back in the suburbs. Just another ordinary family man on the surface. I wonder how many chickens he sells each week, how many more of us are out there living in the shadows.
"Pretty awesome, huh?" Nod says. "I'm salivating already."
"Let's get out of here."
"Grab them," he says.
"Why me?"
"Because I gotta drive."
I hold the chickens upright on the drive home, cradled against my chest. They emit strange little chirps and whisps, like they are talking to each other in hushed voices. I marvel at how they twist their necks, looking up at me.
"We're going to have a fucking feast!" Nod says. "I should've picked up a can of mashed potatoes. You think the mart is open this late?"
"Where are you going to kill them?" I ask.
"Your place."
"No way."
"You got a bathtub. You should see all the blood that comes out of these things."
"How would you know?"
"Found a book online. Before they took it down."
As we return to the city, Nod talks about all the things he has learned from the book. Like the correct way to pluck feathers or remove the crop, the oil gland, guts. I try to tune him out as I stroke the feathers of the chickens nuzzled in my arms, trying to decipher their secret language.
***
Read the rest of "Free Range," by John Yunker, on Flyaway. And if you're an OHH flock member, don't forget to keep reading for your chance to win a copy of The Tourist Trail, also by John.
***
John Yunker is the author of the animal activism novel The Tourist Trail. His plays have been produced by theaters in Oregon, Kentucky and Washington (see samples at johnyunker.com). He is co-founder of Ashland Creek Press, an independent press devoted to environmental and animal literature at ashlandcreekpress.com.
***
But wait! We're not done! If you're a flock member, read on for your chance to win the AR-themed novel, The Tourist Trail! If you're not yet a flock member, join us today! It's for the animals! 
***
The rest of this post is viewable only to Flock Members! To read the rest, please LOG IN or JOIN OUR FLOCK today! Our Hen House is a 501(c)3 nonprofit organization. Thanks!