More Art of the Interview by Caryn Ginsberg (Inspired by Mahi Klosterhalfen)
By Visiting Animal — February 23, 2016
Our Hen House said: "Yes, please!" to Caryn Ginsberg's kind offer to make more visual maps of Our Hen House interviews. She produced this one for Mahi Klosterhalfen's interview on Episode 239 from August 9, 2014! Her graphic summarizes and organizes the information so that you can see the big picture. We are so happy to be able to bring this interview back in this truly timeless format. Keep us posted about how much you love these great graphics! Send an email to us: info [at] ourhenhouse [dot] org.
***
Art by Caryn Ginsberg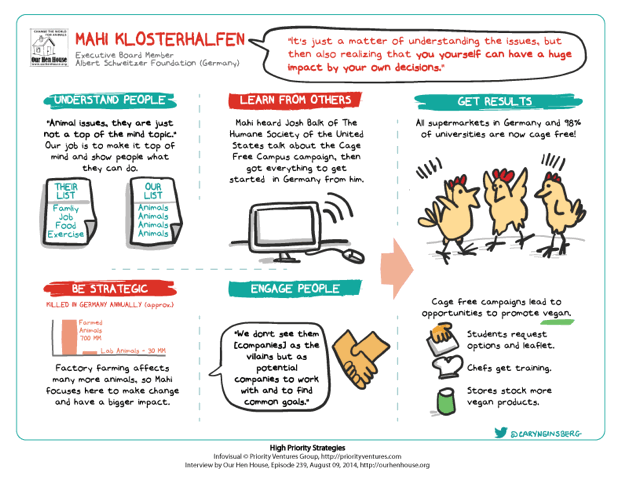 ***
Caryn Ginsberg is the author of Animal Impact: Secrets Proven to Achieve Results and Move the World. She has spent more than a decade helping animal protection advocates utilize proven strategy and marketing approaches to get better results. She has worked with the ASPCA, The HSUS, PetSmart Charities, Farm Sanctuary, Humane Farm Animal Care, and RedRover, among others. She has fun and creates change by helping everyone draw out their best! More about Caryn here!
Comment with Facebook
comments