Today we are excited to welcome to Our Hen House vegan author and artist John Schlimm. John recently published his memoir Five Years in Heaven: The Unlikely Friendship That Answered Life's Greatest Questions, and was generous enough to offer us the essay below, inspired by the book. Our favorite part? When a "wise, old nun" told John, "Animals are some of the best teachers we have in this world, if only we choose to learn from them."
***

3 Ways a 92-Year-Old Nun and Her Cat Taught Me To Live Every Day to the Fullest
by John Schlimm
At age 31, lost and disoriented at a crucial crossroads in my life, I met a wise, old nun and artist named Sister Augustine and her spirited calico Blitzen. Both Sister Augistine and Blitzen had been long forgotten by the world and were quietly tucked away in the ceramic shop that Sister had started in the 1960s on the grounds of a 150-year-old convent.
Over the next five years, my hundreds of visits with Sister Augustine and Blitzen turned into the ultimate master class in living each day to the fullest. No topic was off limits: from forgiveness, death, and even the existence of God, to love, success, creativity, sin, compassion for all living beings, and lifelong struggles with personal demons.
While Sister Augustine became my greatest mentor, Blitzen was always nearby—either on Sister's lap or perched on the tabletop amidst the bisqueware and bottles of glaze—offering his own brand of wisdom and humor. That is, when he wasn't causing mischief elsewhere in the shop or disappearing in between the walls during epic games of hide-and-seek with Sister.
This feisty little ball of gold, charcoal, and white fur played a vital role in helping Sister show me the true meaning of life, often acting as the ultimate visual aid to her life lessons. Sister once told me, "Animals are some of the best teachers we have in this world, if only we choose to learn from them."
Many seeds of my future role as an animal activist were planted during those visits. Indeed, some of the best lessons I learned were accompanied by purrs and meows from Sister's faithful sidekick.
Here are three ways that Sister Augustine and Blitzen showed me how we can all live life to the fullest, and enjoy the best that every day has to offer.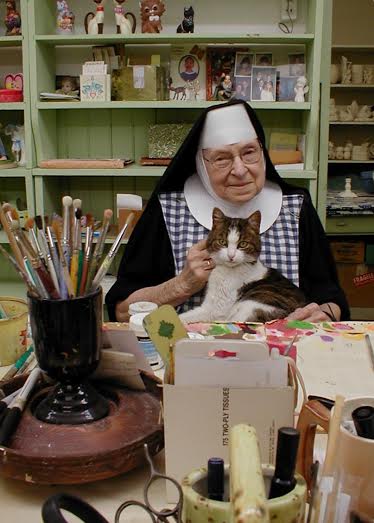 Remember to pause (or paws, if you prefer!) and see what's right there in front of you.
No matter how busy Sister Augustine was, as soon as Blitzen sauntered into the room and rubbed up against her ankle, she would put down her paintbrush, pat her lap, and say, "Come on up, I know what you want." Blitzen would hop up onto his friend's lap and snuggle in. Her work at a standstill, Sister would proceed to brush Blitzen's shiny coat as he purred himself to sleep.
Sister always reminded me about the importance of simplifying my frenzied life. She touted the beauty of taking time each day to stop and be mindful of the blessings and gifts right there in front of us, furry or otherwise.
"When we pause, even for a moment, that is when we see just how wonderful the world around us truly is," Sister told me, gazing down at Blitzen asleep on her lap. "That quiet moment is a gift only we can give to ourselves. It recharges us to then move forward in our lives."
Laughter is the ultimate catnip, even for us humans.
Few things made Sister Augustine laugh the way Blitzen did. She often teased him with a handmade toy—an artificial daisy tied to the end of a string. He would pounce around after the daisy, but Sister was too quick for him. She would let out an infectious round of chuckles every time Blitzen swatted and tumbled after the flower. And Blitzen appeared to have a big smile on his face, too. The love and humor they shared friend-to-friend was palpable and inspiring.
Sister told me, "Laughter is a great blessing. It helps make this life precious, and it can carry us through even the saddest times."
My every visit to Sister's shop was filled with laughter. Often, it was over one of Blitzen's silly antics, like his drinking from the bowl of muddy-gray water that Sister Augustine used to clean her paintbrushes. "One of these days, I'm going to come in and find a clay cat!" Sister would declare while scolding him, with a smile. Blitzen would reply with a "MEOW!" and dart away, leaving me laughing until tears pooled in my eyes.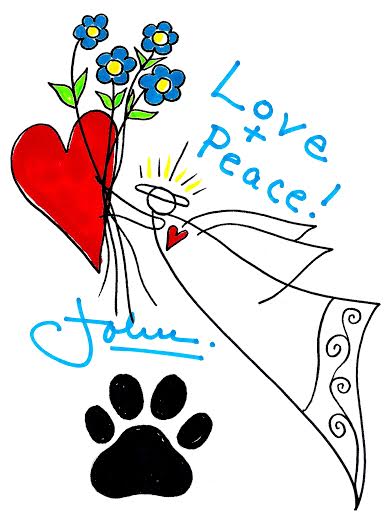 Embrace love in all its (furry) glory.
Sister Augustine once told me about love: "No words are necessary, it's just there."
Blitzen took a while to warm up to me. He was used to being the lone male in a convent full of women. But one afternoon, when I arrived, Sister Augustine was sound asleep, napping in her chair in the shop. A half-painted plate, ringed with her signature forget-me-not motif, rested on her lap. She looked too peaceful to wake her, so I let Blitzen entertain me while I waited.
As I watched helplessly with widened eyes, the calico raced around the ceramic shop. The consummate performer, he leaped from shelf to shelf, then from table to table—winding his way through fragile clayware pieces with the grace and precision, and confidence, of an Olympic skater.
Finally, he plopped down right in front of me as Sister awakened with a chuckle. He approached me cautiously. I pulled out all the stops this time, luring him in with a free neck massage. For the first time, we nuzzled nose to nose. He then promptly settled into my lap and fell asleep. It was as if we had always been lifelong pals.
***


John Schlimm is the international award-winning author of FIVE YEARS IN HEAVEN: The Unlikely Friendship That Answered Life's Greatest Questions and such plant-based cookbooks as The Ultimate Beer Lover's Happy Hour, The Cheesy Vegan, Grilling Vegan Style, and The Tipsy Vegan. Also an artist, compassion activist, and educator, he recently debuted his participatory art piece THE SMILE THAT CHANGED THE WORLD (is yours) with installations in Washington, D.C. and Canada. John holds a Master's Degree in Education from Harvard University.