We last heard from Angela G. Colantonio when she shared her eye-opening feelings about how being an introvert actually helps inform her animal activism. We have stayed in touch with Angela, and were thrilled to hear that, after reading about the T. Colin Campbell Foundation Certificate in Plant-Based Nutrition right here on our blog, Angela registered! Below, she shares with us her experiences in this one-of-a-kind program. Perhaps it was our blog that initially attuned her to this unique certification, but after reading about Angela's experiences, it is her enthusiasm for it that is inspiring us to want to sign up! That's what we call synchronicity!
 ***
A Review of the T. Colin Campbell Foundation Certificate in Plant-Based Nutrition
by Angela G. Colantonio
What are you? A doctor?
Have you ever found yourself expounding upon the many health benefits of a whole-foods, vegan diet – reduced risk of cancer, diabetes, obesity, heart disease, and other chronic diseases – to an omnivorous acquaintance, only to be dismissed because you're missing some official credentials?
Now, many of us don't have a diploma hanging on the wall validating our knowledge as a doctor of medicine, master in nutrition, or registered dietician. However, through eCornell, the online professional development subsidiary of Cornell University, if you want to learn more about the health benefits of plant-based eating, and become a credible resource for others, you can do it! A Certificate in Plant-Based Nutrition can be yours, in as little as six weeks.
The curriculum was developed by one of the most knowledgeable, experienced, and respected physicians advocating for plant-based nutrition, Dr. T. Colin Campbell. He is a pioneering researcher in the field of nutrition, diet, and disease (we vegans love him). Dr. Campbell is well known as one of the authors of The China Study, a best-selling book that reports on groundbreaking epidemiological studies and scientific findings connecting diet and disease. More recently, he's gained a bit of star status, thanks in part to the highly successful Forks Over Knives film, books, recipes, and blogs that are sweeping through the country with fervor.
When this educational opportunity was featured here on Our Hen House, I was determined to become a part of the growing community of students seeking plant-based knowledge. Most people cringe at the thought of summer school, but I couldn't have been more thrilled to immerse myself in this curriculum.
Earning your very own Certificate in Plant-Based Nutrition is as easy as completing three engaging and informative courses: Nutrition Fundamentals provides the basics on the macronutrients and micronutrients that make up a healthy, vegan diet, along with an introduction to the China Study project, which is a great refresher for more seasoned vegans who have already read the now-classic book. Next, Diseases of Affluence delves into the undeniable connections between diet and disease, supporting a dietary, lifestyle solution to our public health woes. Finally, the curriculum culminates in Principles in Practice, which examines various practical applications of the knowledge gained from the previous program offerings and gives students an outlet for their enthusiasm for plant-based living gained from the first two courses.
Though you progress through the lectures and tests at your own pace, from the comfort of your own home, a local coffee shop, or another favorite spot where you can catch an Internet connection, you have the opportunity to interact with other like-minded individuals all over the world – a major perk of the program. You can network with entrepreneurs who may be earning this certificate as professional development for their vegan-friendly business, parents looking to advocate for better nutrition in their kids' schools, activists who approach vegan nutrition from an animal rights or environmental perspective, and even the vegan-curious who want to know the truth about why they need to ditch meat, dairy, and eggs. I know there is a place for you in this program, regardless of where you are in your journey to a whole-foods, plant-based lifestyle.
Thankfully, there are no prerequisites for coursework in biology, chemistry, or human physiology to earn this certificate, and for those who have not worn the student hat in years, the class elements are very approachable and fair. The instructors, who guide evaluations, lectures, and discussion boards, as well as answer questions about Dr. Campbell's lectures, are well versed in his stance on prominent questions regarding diet and disease and highly knowledgeable about all aspects of plant-based nutrition, from the particulars about protein, to the finer points of fatty acids. Lucky for me, they were always willing to answer questions, offer resources, and organize class chats to discuss pressing questions or clear up confusion in real time.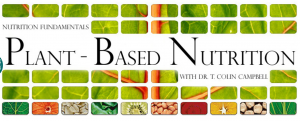 There is no doubt that the Certificate in Plant-Based Nutrition program offers high-quality content, with lectures by not only Dr. Campbell, but experts including Dr. Pam Popper, Dr. Caldwell Esselstyn, Dr. John McDougall, and Brendan Brazier. Throughout the program, I was always engaged by thought-provoking discussion questions, which are framed in such a way that the answers can be applied to my everyday interactions. But it is the last class that really makes this a well-earned certificate. By the time I was finished with the final course, I knew I could practice putting my nutrition knowledge into action, through activities like developing public health campaigns for healthy, vegan diets, and writing letters to political leaders.
My experience with this course is a true testament to what Our Hen House does best – provide "a multi-media hub of opportunities for change." If I hadn't seen this certificate featured on the blog, I'm not sure I would have known about the program or have been encouraged to take advantage of this opportunity to further my education. And, now that I have, I not only feel empowered to share what I've learned in my closest circles of family and friends, but now am also searching for other avenues to broaden my scope of influence for promoting vegan nutrition. We can all learn more about vegan diets and lifestyles through the ever-expanding resources available online and in print, but completing the Certificate in Plant-Based Nutrition program has given me an extra edge, and has enhanced my skill set as an effective changemaker for animals. It's great to set a good example for others and it's easy for some of us to walk the walk as a vegan, but when you can talk the talk on behalf of the animals, share what you know, and educate others, you can go even further as an animal advocate. Getting more people to keep animal products off their plates, whether you are convincing them on the grounds of health, the environment, or ethics, is one of the best ways to save animals.
So, after completing this impressive program, the next time you go head to head with someone who answers your arguments for plant-based living with an attack on your credentials, you'll be able to meet the challenge and say that you have a Certificate in Plant-Based Nutrition from a top doc in the field.
***

Angela G. Colantonio
is a graduate student earning her master in public health degree with the hopes of helping improve the health of people and the environment through a plant-based diet and lifestyle. She currently works as a research assistant for studies investigating childhood obesity prevention and food insecurity. In her free time, Angela, a vegan of two and a half years, enjoys absorbing as much information on veganism as she can through books and blogs, volunteering for local organizations that promote public health and animal welfare, and sharing time with her beloved companion animals – Nella, a poodle; three happy hens; and a trio of rabbits.