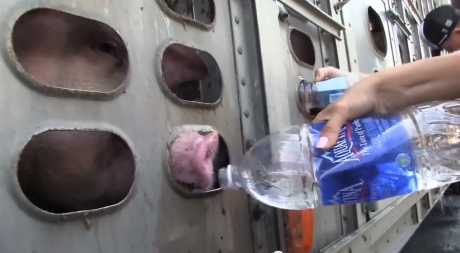 This video will make you cry. It does not contain footage of animal slaughter, animals being beaten, or even factory farming. What you've got here is simple — frighteningly so. Toronto Pig Save, a grassroots animal rights vegan group aiming to "put 'glass walls' on Toronto slaughterhouses," holds weekly vigils to "bear witness of pigs transported to 'Quality Meat Packers' in downtown Toronto."
In this video, filmed during a heat wave, with temperatures that day feeling like 110 degrees Fahrenheit, a group of activists stood on a heavily-trafficked corner, awaiting pig transport trucks. When the trucks were stopped, the activists fed the pigs water. The pigs, many of whom appeared to be suffering heat stroke, desperately crowded around the slats of the truck, mouths pressed against the metal, trying to get a bit of water, of respite. "It's so heartbreaking to know that that's the only bit of mercy and love that they've had their entire lives," said one activist, echoing so many of our thoughts.

The folks at Toronto Pig Save are heroes to me. Not only are they out there week after week — with signs, water, and unrelenting love — but they are capturing their vigils on video, and these videos are headed toward going viral.
Transport trucks can be easy for some people to simply tune out. As we sit in our cars on our way to pick up our kids or our groceries, or go for a dental cleaning, we might haphazardly see some snouts popping out of a truck alongside us and think nothing of it — they, too, are simply headed to an appointment.
Toronto Pig Save forces people to see these animals as the individuals they are. Like us humans, they need food and water. Like us humans, they feel pain. And like us humans, when their dignity is stripped away from them, and they are relegated to a mere commodity, their only hope is in others who are brave enough to bear witness, savvy enough to get the word out far and wide, and alive enough to actively advocate for a new world that is free of animal suffering. SHARE THIS VIDEO!