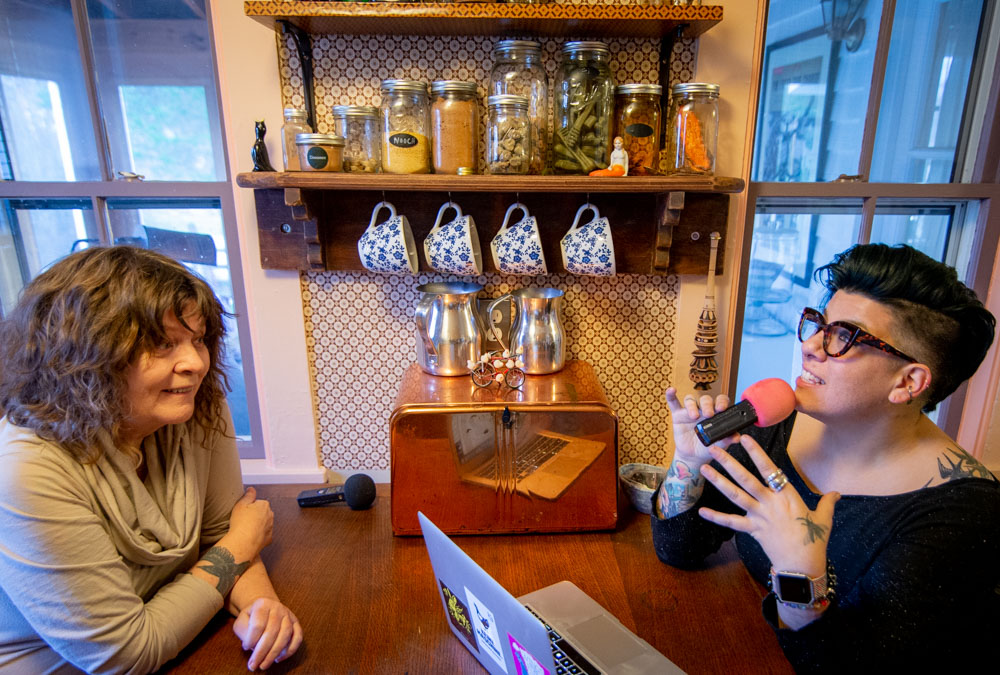 Our Hen House produces upbeat yet hard-hitting podcasts that amplify the voices of people who are working to change the world for animals, offering our listeners accurate information and inspiration to create positive change. 
Our Hen House is a 501(c)(3) not-for-profit organization. EIN: 27-2476183
Our Mission:
To effectively mainstream the movement to free animals from exploitation and cruelty.
Our Role:
Creating podcasts that create change.
Our Audience:
You! And everyone who has awakened to the awful truth about what is happening to animals and is ready to take personal responsibility for leading the way to a new world.
Our Style:
Indefatigably positive.
Our Background & Overview:
Our Hen House was founded in January 2010 by activist and author Jasmin Singer and lawyer and animal law professor Mariann Sullivan (view their bios here). Jasmin and Mariann co-host the dynamic weekly Our Hen House Podcast, which highlights movement leaders and grassroots changemakers, artists, writers, chefs, entrepreneurs, politicians, business folk and more—and provides inspiration and hope for anyone and everyone who cares about animals. The podcast has been honored several times as a  "Webby Award Honoree." 
Mariann also hosts the monthly Animal Law Podcast focusing on interviews with lawyers who are handling precedent-setting litigation cases and other legal efforts to change the world for animals. Jasmin hosts the limited mini-series cooking podcast, Teaching Jasmin How to Cook Vegan.
Our Team:
Co-Host, Co-Founder, and Executive Director: Jasmin Singer
Co-Host, Co-Founder, and Animal Law Podcast Host: Mariann Sullivan
Board of Directors: Elisa Camahort-Page, Rachel Krantz, Erica Nielsen, Jasmin Singer
Team: Vicki Beechler (Director of Operations); Jen Riley (Director of Fundraising); Jocelyn Martinez (Production Assistant); Eric Montgomery of Podcast Haven (Podcast Editor); Ben Braman (Tech Guy); Weronika Kolinska (Graphic Designer); Michael Harren (Composer)
Check out the Our Hen House team bios here. 
Mailing Address: 
Our Hen House
#1052
1100 Jefferson Rd Suite 12
Rochester, NY 14620
Questions/Comments?
Email info@ourhenhouse.org or fill out the form on our contact page. 
Our Hen House is a 501(c)(3) nonprofit organization. Contributions are tax-deductible as allowed by law. We are grateful for your contributions. EIN: 27-2476183