Street Dog Care is a small NGO located in Kathmandu, Nepal that offers vet care to the city's feral dog population. It's not uncommon for people who visit the organization to leave with the love of their life! But when a vegan decides to rehome a street dog, she is faced with many ethical animal rights considerations – is she restraining their feral liberties? Or is she offering them more liberties than they would have otherwise? Should she leave them on the street, or should she put them in a home? As Jessika Ava explores in this article – her third in a three-part series for OHH on The Dogs of Kathmandu – ultimately it may be that the moral choice is to let the dog make the final call!
***
Adopting a Street Dog: Ethical Ramblings
by Jessika Ava

I knew I would adopt another dog, but the timing was never right. I am still getting over the death of my first dog, I travel too often, I move frequently, I live in studio apartments. So when I moved to Kathmandu, the last thing I expected was to bring back a dog.
But in Kathmandu, you see, it wasn't I who adopted her – she adopted me. All I could do was consent to her puppy love. Yet, on some days I find myself contemplating the ethics of that consent. Ultimately it was a conscious decision I made, and although we all make choices every moment of our lives, as a person who is single by choice and childfree by choice, my decisions typically don't involve another being to such a great degree. I made the right decision, didn't I?

As I recounted in a previous article on Our Hen House, on my first visit to Kathmandu, I took up residence in a small house of healing street dogs with a special project called Street Dog Care. Dogs would come in, recover, and then return to the street. I loved every single dog, but intentionally kept a bit of an emotional distance so that no one became attached.
But one full moon night, everything changed. In came a tiny, muddy, black and white puppy, no more than five pounds. Having been hit by a drunken taxi driver, one teeny leg was severed and the other three deeply injured. Typically, dogs who came in to be cared for would be put right into a kennel, but it was not so simple with this girl – she couldn't stand or walk, and she needed too much help. So I broke my "no dogs in the bedroom" rule, and told myself she could sleep there only until she was strong enough to walk to her water bowl.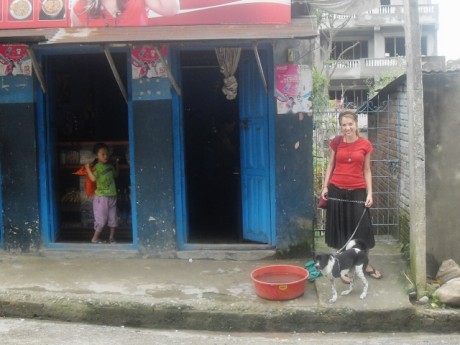 The first night was unpleasant to say the least. She rolled around, crying. I sang lullabies for some sense of comfort. That night I decided to call her Luna.
The second night, Luna was still unable to stand, so stayed with me. I awoke the third morning to her sitting up, watching me sleep.
The third night, I decided it was best to let her stay with me one more time – just to be safe.
The fourth night she was walking enough, so there were no justifications for her staying with me. But I just didn't let myself think about it too much, and she stayed anyway.
By the fifth night, Luna was wearing a hand-made collar.
Her first few weeks, she relied on me for everything. Since she was unable to balance for long, I had to hold her up to eat, relieve, and say hello to other dogs. I had to reteach her how to walk. She clung to my side, and if I left her sight she panicked and screamed. She insisted that I was hers and she was mine. How could I possibly place her back on the street?

But viewing the world from an animal rights perspective, the decision of whether to adopt a street dog is more complex than offering a good home. Although their lives have challenges, street dogs have a certain freedom. They display their natural tendencies in a way that's not possible in a human home. They live in packs, they remain with their families, they play with their best friends all day. Taking Luna from the street, I would be forcing her to abide by the regulations of human society – two leashed walks a day, limited barking, no chasing cats, listening to commands, minding manners. I was imposing on her freedom, but perhaps I was offering another type of freedom in return? Not able to have this philosophical discussion with her, all I could do was interpret her behavior as telling me what she wanted most to do.

So we made the journey back to the U.S. There were hurdles… many, many hurdles. For one, Luna had grown half a kilogram over the allotted carry-on weight limit, so the India airlines would not let us board the plane, leaving us stranded in Delhi at 2 a.m. But, as it turned out, Luna was happy to experience India for one week – riding on rickshaws, barking at holy cows, playing in monsoon rains. Eventually we made it to the other side of the world, where my three-legged best friend adapted to the rules and regulations of an anthropocentric world with no culture shock to speak of.

Luna is a "pet" dog now, but still she is a little wild – she is very territorial and navigates the dog park with complex social interactions that go beyond her friends. And she still continues the incessant barking at night, an innate quality buried deep in her genetic makeup and shared with all Nepali street dogs.
I could never describe Luna as unhappy. In fact, she is an ecstatic dog: ecstatic to go on walks, ecstatic to bark at squirrels, ecstatic to join our local farm sanctuary work day. But occasionally she will distance herself from me, sitting on her own and soberly gazing into the horizon. When she is in these moods, I wonder if she is missing her street friends, missing her childhood home, missing her spicy trash food. I wonder if there is, perhaps, a very tiny hole inside her heart, where her unsatisfied feral nature lies. Fortunately, these moods leave as quickly as they come, and once again she is ecstatic to be chasing butterflies.

Did I make the ethical decision by bringing her to the U.S.? Or was I enchanted by a pretense that she was in need of being saved? As we sojourn together to any of our many homes across the U.S., Luna always likes to stay outside all day, remaining in the unfenced yard and guarding her territory like a true street dog. Yet she always lies in view of the open door, never taking her eye off me. And at night, or when the wind is too chilled, she wants to come inside, preferring her familiar overstuffed bed to a dusty yard.
Did I make the right decision by consenting to her adoption of me? I believe I did.
If you would like to become involved with Street Dog Care or adopt a street dog, please email Jessika [dot] Ava [at] StreetDogCare [dot] org.

***
Jessika Ava
has been working for animal rights in various capacities for over 10 years. Her work has ranged from elephant conservation and primate behavior, to food policy and vegan advocacy. She received a Bachelor of Science in Biology, Masters of Public Administration, and in the fall will begin her PhD in Biostatistics. Jessika is on the Board of Directors of
Street Dog Care
, Out to Pasture Farm Sanctuary, and
Help Animals India
. She currently lives in Kathmandu, helping the city's street dogs, and when in the States she shares her Portland, OR home with her much-loved 3 ½ -legged street dog from Nepal, Luna.