On this episode of the Animal Law Podcast, I speak with Professor Karen Bradshaw about her new book,  Wildlife as Property Owners: A New Conception of Animal Rights, which has been making quite a splash in the animal law world. It's not often we get a chance to talk about property law and trusts and estates law on this podcast but that's what we'll be doing today, along with some Indigenous and Nature Rights law thrown in. This conversation may just expand your thinking about what is possible for those who are working to protect wild animals.
Karen Bradshaw is a Professor of Law and the Mary Sigler Fellow at Sandra Day O'Connor College of Law at Arizona State University. She is concurrently a Faculty Affiliate Scholar at the New York University School of Law Classical Liberal Institute and Senior Sustainability Scientist at the Global Institute of Sustainability at Arizona State University. She is also a contributing co-editor of Wildfire Policy: Law and Economic Perspectives. You can connect with her at kmbradshaw.com or KM_Bradshaw on Twitter or km.bradshaw on Instagram.
***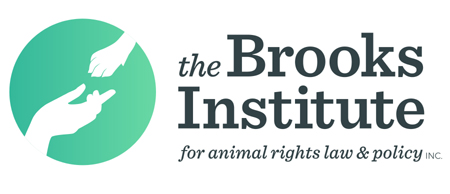 The Animal Law Podcast is proud to partner with The Brooks Institute for Animal Rights Law and Policy, Inc., a US-based national independent think tank pursuing a paradigm shift in human responsibility towards, and value of, non-human animals by advancing animal law, animal policy, and related interdisciplinary studies.
As the Animal Law Podcast 2021 Exclusive Sponsor, the The Brooks Institute for Animal Rights Law and Policy, Inc is dedicated to producing and disseminating outstanding, independent, academic, and public policy research and programming; and pursuing projects and initiatives focused on advancing law and policy pertaining to animals.
You can listen to our podcast directly on our website (beneath this paragraph!) or you can listen and subscribe on iTunes or your favorite podcatcher. Also, if you like what you hear, please rate it on iTunes, and don't forget to leave us a friendly comment! Of course, we would be thrilled if you would consider making a donation, or becoming a member of our flock (especially if you're a regular listener). Any amount is hugely appreciated and Our Hen House is a 501(c)(3) nonprofit organization, so it's tax-deductible. Thank you for helping us create quality content!
The graphics for the OHH podcasts are created by the wonderful Laurie Johnston of Two Trick Pony. Don't forget to also listen to the award-winning,  weekly signature OHH podcast — now in its eleventh glorious year!