On this episode of the Animal Law Podcast, I speak with Emily Jeffers of the  Center for Biological Diversity about the 9th Circuit's recent decision in Center for Biological Diversity v Haaland, in which the court decided that the U.S. Fish and Wildlife Service's sudden about face, in 2017, on whether the Pacific Walrus is subject to the protections of the Endangered Species Act was not adequately supported. In this far-ranging conversation, we get into how difficult the walruses' lives have become since the ice has started to disappear from their traditional habitat, the influence of the change in administrations on Endangered Species Act enforcement and, most fundamentally, how much can the Endangered Species Act do to protect animals in the era of climate change and biodiversity collapse.
Emily Jeffers is Staff Attorney at the Center for Biological Diversity, working in the Center's Oceans program. Emily graduated from the University of California, Berkeley School of Law and received her bachelor's degree in biology from Yale University. Before joining the Center, Emily served as a law clerk to the Honorable Gregory J. Hobbs, Jr. of the Colorado Supreme Court and worked as a wildlife biologist in California and Idaho.
***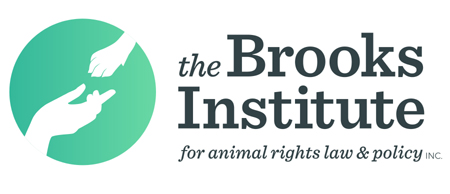 The Animal Law Podcast is proud to partner with The Brooks Institute for Animal Rights Law and Policy, Inc., a US-based national independent think tank pursuing a paradigm shift in human responsibility towards, and value of, non-human animals by advancing animal law, animal policy, and related interdisciplinary studies.
As the Animal Law Podcast 2021 Exclusive Sponsor, the The Brooks Institute for Animal Rights Law and Policy, Inc is dedicated to producing and disseminating outstanding, independent, academic, and public policy research and programming; and pursuing projects and initiatives focused on advancing law and policy pertaining to animals.
You can listen to our podcast directly on our website (beneath this paragraph!) or you can listen and subscribe on iTunes or your favorite podcatcher. Also, if you like what you hear, please rate it on iTunes, and don't forget to leave us a friendly comment! Of course, we would be thrilled if you would consider making a donation, or becoming a member of our flock (especially if you're a regular listener). Any amount is hugely appreciated and Our Hen House is a 501(c)(3) nonprofit organization, so it's tax-deductible. Thank you for helping us create quality content!
The graphics for the OHH podcasts are created by the wonderful Laurie Johnston of Two Trick Pony. Don't forget to also listen to the award-winning,  weekly signature OHH podcast — now in its eleventh glorious year!