On this episode of the Animal Law Podcast, I speak with Cristina Stella, a managing attorney at the Animal Legal Defense Fund, about ALDF v Foster Poultry Farms, currently pending in Superior Court in Merced County, California. This fascinating case is rooted in a provision of the California state constitution governing water use. I have to say even I was shocked to find out the amount of water they use to slaughter chickens, particularly given the wasteful and hideous cruel methods used. It was also shocking to find out how, in these dire times of extreme drought, poor communities in California's Central Valley are suffering in spite of state constitutional provisions designed to protect access to water.
As a managing attorney at the Animal Legal Defense Fund, Cristina Stella litigates on behalf of farmed, wild, and captive animals who are subjected to systemic cruelty and exploitation in commercial industries. Her cases primarily focus on increasing transparency in the industrial agriculture system and challenging industrial agricultural practices that harm animals, the environment, and public health. Cristina also teaches animal law as an adjunct professor at the University of California, Davis School of Law and is the co-author of the investigative report, America's Secret Animal Drug Problem: How Lack of Transparency is Endangering Human Health and Animal Welfare.
***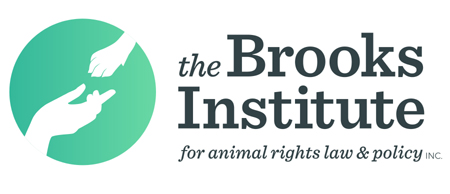 The Animal Law Podcast is proud to partner with The Brooks Institute for Animal Rights Law and Policy, Inc., a US-based national independent think tank pursuing a paradigm shift in human responsibility towards, and value of, non-human animals by advancing animal law, animal policy, and related interdisciplinary studies.
As the Animal Law Podcast 2021 Exclusive Sponsor, the The Brooks Institute for Animal Rights Law and Policy, Inc is dedicated to producing and disseminating outstanding, independent, academic, and public policy research and programming; and pursuing projects and initiatives focused on advancing law and policy pertaining to animals.
You can listen to our podcast directly on our website (beneath this paragraph!) or you can listen and subscribe on iTunes or your favorite podcatcher. Also, if you like what you hear, please rate it on iTunes, and don't forget to leave us a friendly comment! Of course, we would be thrilled if you would consider making a donation, or becoming a member of our flock (especially if you're a regular listener). Any amount is hugely appreciated and Our Hen House is a 501(c)(3) nonprofit organization, so it's tax-deductible. Thank you for helping us create quality content!
The graphics for the OHH podcasts are created by the wonderful Laurie Johnston of Two Trick Pony. Don't forget to also listen to the award-winning,  weekly signature OHH podcast — now in its eleventh glorious year!