On this episode of the Animal Law Podcast, I speak with Piper Hoffman of Animal Outlook and, once again, to Jay Shooster, of the Richman Law Group, about Animal Outlook v Cooke Aquaculture, a consumer protection case brought in the Superior Court of the District of Columbia based in allegations of deceptive advertising about the welfare of fish, specifically the salmon in Cooke's aquaculture facilities. You may recall seeing some of the footage of the treatment of these salmon when Animal Outlook first released the results of this undercover investigation. You may also recall having heard about it on Our Hen House, our sister podcast, when we had Erin Wing, the undercover operative who took that footage, on to tell us about it back on Episode 587. Now we are covering the next development, i.e., this consumer protection lawsuit that is using the information gathered in that investigation to bely some of the claims made about how these poor fish are treated.
Piper Hoffman brings more than 20 years of legal experience to bear as the Senior Director of Litigation at national farmed animal advocacy group Animal Outlook. Vegetarian since childhood and vegan since the 20th century, she earned her J.D. cum laude from Harvard Law School, where she successfully lobbied the school to offer its first Animal Law class. After a federal clerkship, Piper began her animal law career as a staff attorney at the Animal Legal Defense Fund. She has taught Animal Law at New York City law schools since 2014. Piper is especially proud of her past contributions to Our Hen House's website, podcast, and much-missed TV show.
Jay Shooster is an associate and the Senior Animal Welfare Legal Fellow at Richman Law Group. Jay has represented nonprofits and consumers in numerous cases against large food companies, including Tyson Foods, Kraft Heinz, and Unilever.
***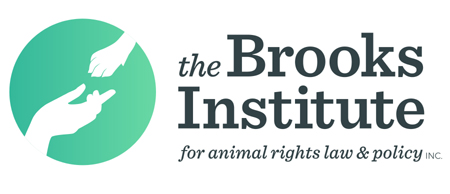 The Animal Law Podcast is proud to partner with The Brooks Institute for Animal Rights Law and Policy, Inc., a US-based national independent think tank pursuing a paradigm shift in human responsibility towards, and value of, non-human animals by advancing animal law, animal policy, and related interdisciplinary studies.
As the Animal Law Podcast 2021 Exclusive Sponsor, the The Brooks Institute for Animal Rights Law and Policy, Inc is dedicated to producing and disseminating outstanding, independent, academic, and public policy research and programming; and pursuing projects and initiatives focused on advancing law and policy pertaining to animals.
The North American Animal Law Conference, in collaboration with the Canadian Animal Law Conference Scholars Track, will showcase animal law and policy scholarship that is conducive to deeper thought and consideration of a particular topic. The North American Animal Law Conference features keynote presentations by prominent scholars from across North America and a culminating evening panel of renowned experts. It is a 1-day virtual event, Friday October 1. More information can be found at thebrooksinstitute.org/naalc-2021.
You can listen to our podcast directly on our website (beneath this paragraph!) or you can listen and subscribe on iTunes or your favorite podcatcher. Also, if you like what you hear, please rate it on iTunes, and don't forget to leave us a friendly comment! Of course, we would be thrilled if you would consider making a donation, or becoming a member of our flock (especially if you're a regular listener). Any amount is hugely appreciated and Our Hen House is a 501(c)(3) nonprofit organization, so it's tax-deductible. Thank you for helping us create quality content!
The graphics for the OHH podcasts are created by the wonderful Laurie Johnston of Two Trick Pony. Don't forget to also listen to the award-winning,  weekly signature OHH podcast — now in its eleventh glorious year!