On this episode of the Animal Law Podcast, I speak with David Michelson, Oregon-based animal rights activist and chief petitioner of the Yes On IP13 campaign, which is the effort to pass a ballot initiative that would dramatically change the legal landscape for animals in that state. Basically, what they are trying to do is to make Oregon's anti-cruelty law do what it purports to do and what many people erroneously think it already does, i.e., protect animals from cruelty. Sounds like a modest concept, but, as we all know, if they are successful, it would change everything. Honestly, this interview kind of blew my mind and shifted my horizons about what is possible. I hope it does the same for you.
David Michelson is an Oregon-based animal rights activist operating as the chief petitioner of the Yes On IP13 campaign and serving as director of the petition committee End Animal Cruelty. Originally with a background in psychology and public health, David's dedication to animal rights activism began after bearing witness to the pigs being sentenced to gas chambers as part of the slaughter process. After first joining the animal rights movement in Denver, Colorado as an organizer for street outreach, David has since relocated to Portland.
***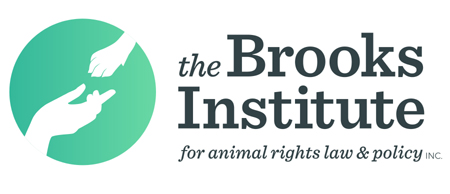 The Animal Law Podcast is proud to partner with The Brooks Institute for Animal Rights Law and Policy, Inc., a US-based national independent think tank pursuing a paradigm shift in human responsibility towards, and value of, non-human animals by advancing animal law, animal policy, and related interdisciplinary studies.
As the Animal Law Podcast 2021 Exclusive Sponsor, the The Brooks Institute for Animal Rights Law and Policy, Inc is dedicated to producing and disseminating outstanding, independent, academic, and public policy research and programming; and pursuing projects and initiatives focused on advancing law and policy pertaining to animals.
The North American Animal Law Conference, in collaboration with the Canadian Animal Law Conference Scholars Track, will showcase animal law and policy scholarship that is conducive to deeper thought and consideration of a particular topic. The North American Animal Law Conference features keynote presentations by prominent scholars from across North America and a culminating evening panel of renowned experts. It is a 1-day virtual event, Friday October 1. More information can be found at thebrooksinstitute.org/naalc-2021.
You can listen to our podcast directly on our website (beneath this paragraph!) or you can listen and subscribe on iTunes or your favorite podcatcher. Also, if you like what you hear, please rate it on iTunes, and don't forget to leave us a friendly comment! Of course, we would be thrilled if you would consider making a donation, or becoming a member of our flock (especially if you're a regular listener). Any amount is hugely appreciated and Our Hen House is a 501(c)(3) nonprofit organization, so it's tax-deductible. Thank you for helping us create quality content!
The graphics for the OHH podcasts are created by the wonderful Laurie Johnston of Two Trick Pony. Don't forget to also listen to the award-winning,  weekly signature OHH podcast — now in its eleventh glorious year!