On this episode of the Animal Law Podcast, I speak with David Ebert, co-founder of The Animal Defense Partnerhip, about the work of this "pro bono counsel for animal protection charities." As David points out, the purpose of ADP is not to litigate animal rights issues, but to provide animal protection nonprofits with the legal services that any type of organization needs to function properly. From the process of forming the entity and registering with the IRS, all the way to avoiding fundraising pitfalls, drafting contracts, managing crises, and handling human resources issues, those working for animals have the same legal issues as everyone else. Too often they end up spending their time and effort and money complying with such requirements, rather than being free to do the work that needs to be done to help animals directly. That's when ADP seeks to help out.
David Ebert founded the Animal Defense Partnership with Joel Litvin after a long and successful career in commercial litigation as a means to devote himself more fully to protecting animals and reducing suffering. Before retiring from practice in October 2019, David litigated complex commercial matters and also served as outside general counsel to several small and midsize companies. Now, in addition to helping many, many animal protection organizations through ADP, David is also a member of the Pro Elephant Network, Rowdy Girl Sanctuary's Rancher Advisory Coalition, the Board of Advisors for TerraMar Research, and the Advisory Board of FACE, i.e. Free All Captive Elephants).
***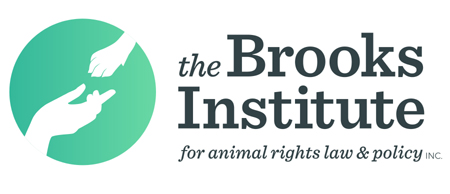 The Animal Law Podcast is proud to partner with The Brooks Institute for Animal Rights Law and Policy, Inc., a US-based national independent think tank pursuing a paradigm shift in human responsibility towards, and value of, non-human animals by advancing animal law, animal policy, and related interdisciplinary studies.
As the Animal Law Podcast 2021 Exclusive Sponsor, the The Brooks Institute for Animal Rights Law and Policy, Inc is dedicated to producing and disseminating outstanding, independent, academic, and public policy research and programming; and pursuing projects and initiatives focused on advancing law and policy pertaining to animals.
You can listen to our podcast directly on our website (beneath this paragraph!) or you can listen and subscribe on iTunes or your favorite podcatcher. Also, if you like what you hear, please rate it on iTunes, and don't forget to leave us a friendly comment! Of course, we would be thrilled if you would consider making a donation, or becoming a member of our flock (especially if you're a regular listener). Any amount is hugely appreciated and Our Hen House is a 501(c)(3) nonprofit organization, so it's tax-deductible. Thank you for helping us create quality content!
The graphics for the OHH podcasts are created by the wonderful Laurie Johnston of Two Trick Pony. Don't forget to also listen to the award-winning,  weekly signature OHH podcast — now in its eleventh glorious year!