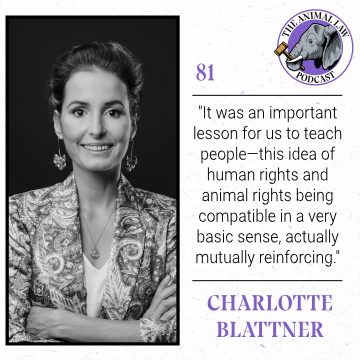 Welcome to the Animal Law Podcast. This is Mariann Sullivan and this week's guest is Charlotte Blattner, a Swiss lawyer and professor of law, who will be talking about primates in Switzerland and a recent ballot initiative held in Basel initiated by the Swiss organization Sentience regarding their rights. Charlotte and I will discuss this very recent effort, the pluses and minuses of using ballot initiatives, which are an important part of Swiss law, to promote the rights of animals, the meaning of the unsuccessful vote and why it should nevertheless be seen as an important step forward, and the implications of this effort for the global fight for fundamental rights for all animals.
Charlotte E. Blattner, Dr. iur., LL.M.,  is a Senior Lecturer and Researcher at the Institute for Public Law of the University of Berne in Switzerland. She obtained her doctorate in 2016 at the interface of international and animal law as part of the doctoral program "Law and Animals" at the University of Basel. Her dissertation project, Protecting Animals Within and Across Borders: Extraterritorial Jurisdiction and the Challenges of Globalization, was published open access by Oxford University Press. She also authored Animal Labour: A New Frontier of Interspecies Justice? together with Kendra Coulter and Will Kymlicka and worked as a postdoctoral fellow at Harvard Law School on a project titled "Environmental Law Beyond Anthropocentrism." She is currently working on a project related to the complex and urgent challenges that climate change poses to Swiss constitutional and administrative law.
**********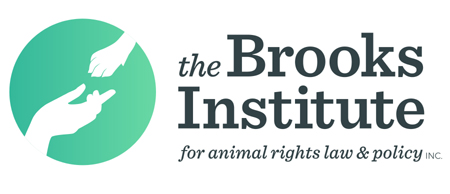 The Animal Law Podcast is proud to partner with The Brooks Institute for Animal Rights Law and Policy, Inc., a US-based national independent think tank pursuing a paradigm shift in human responsibility towards, and value of, non-human animals by advancing animal law, animal policy, and related interdisciplinary studies.
As the Animal Law Podcast 2021 Exclusive Sponsor, the The Brooks Institute for Animal Rights Law and Policy, Inc is dedicated to producing and disseminating outstanding, independent, academic, and public policy research and programming; and pursuing projects and initiatives focused on advancing law and policy pertaining to animals.
The Brooks Institute for Animal Rights Law and Policy is excited to share a new FREE resource:  The Brooks Animal Law Digest – CANADA EDITION! This premier online publication offers in-depth and up-to-date coverage on Canada's most important animal law and policy issues. It is published twice monthly as a collaborative effort with the University of Toronto Faculty of Law's research support.
Like the Brooks Animal Law Digest – US Edition, the Canadian Digest serves as a resource for anyone interested in learning more about the field of animal law – either as a high-level overview of developments, or as a jumping off point for digging into a specific current issue in the field. All content will be accessible on the Brooks Institute website and spotlights via email twice monthly.
Click here to subscribe to the free Brooks Animal Law Digest – CANADA EDITION.
**********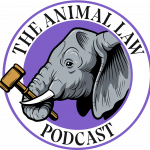 You can listen to the Animal Law Podcast  directly on our website (at the top of this page) or you can listen and subscribe on iTunes or your favorite podcatcher. Also, if you like what you hear, please rate it on iTunes, and don't forget to leave us a friendly comment! Of course, we would be thrilled if you would consider making a donation, or becoming a member of our flock (especially if you're a regular listener). Any amount is hugely appreciated and Our Hen House is a 501(c)(3) nonprofit organization, so it's tax-deductible. Thank you for helping us create quality content!
Don't forget to also listen to the award-winning,  weekly signature OHH podcast — now in its twelfth glorious year!