On this episode I will be discussing  Krasno v Board of Regents of the University of Wisconsin, a crazy case involving comments made on the Facebook and Instagram accounts of the University involving the dreadful research conducted on primates at the University and, in particular, at the infamous Harlow Center for Biological Psychology. Joining me will be both the plaintiff in this case, Madeline Krasno, a former employee at the Center, and her lawyer, Caitlin Foley, of the Animal Legal Defense Fund. They will be telling us about the extraordinary lengths the University has gone to eliminate Maddie's comments about their animal research programs from their social media pages and why and how that implicates the First Amendment.
*We are thrilled to expand the accessibility of our podcast by offering written transcripts of the interviews! Click here to read Mariann's interview with Caitlin Foley & Maddie Krasno.
Maddie Krasno is a former primate lab worker turned activist. She has worked for numerous animal sanctuaries, a wildlife rehabilitation center, and advocacy groups. Maddie holds a master's degree in Humane Education through the Institute for Humane Education and Valparaiso University and bachelor's degrees in Zoology and Child Development from the University of Wisconsin-Madison. Maddie was a student animal caretaker at UW-Madison's Harlow Primate Research Laboratory from 2011-2013 during her undergraduate education. Maddie is currently a plaintiff in two free speech lawsuits related to animal testing against 1) The University of Wisconsin-Madison and 2) the National Institutes of Health (NIH) where she is represented by the Animal Legal Defense Fund.
Caitlin Foley is a staff attorney with Animal Legal Defense Fund. As a staff attorney, Caitlin focuses on a range of civil actions including challenges to unlawful agency actions that impact wild and farmed animals, and suits that seek to hold private actors accountable for their neglect of captive animals used for entertainment. Caitlin graduated in 2010 from the University of Pennsylvania, and in 2016 from the University of Chicago Law School. While earning a law degree, Caitlin also clerked for the Animal Legal Defense Fund. Prior to attending law school, Caitlin performed disaster relief work and garden-based education as an AmeriCorps volunteer for two years in New York City. Following this, Caitlin spent one year as a college counselor at a Brooklyn public school. Located in Pittsburgh, Pennsylvania, Caitlin enjoys reading books, running, and spending time with her daughter, husband and pit pull rescued companion Candy.
Resources:
**********
This episode of The Animal Law Podcast is brought to you in part by The Animal Law Conference. Co-hosted by the Animal Legal Defense Fund and the Center for Animal Law Studies at Lewis and Clark Law School — this year's conference marks the thirtieth anniversary of this premier animal law event. Save the date for November 4-6, 2022!
**********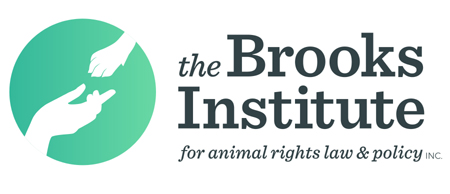 The Animal Law Podcast is proud to partner with The Brooks Institute for Animal Rights Law and Policy, Inc., a US-based national independent think tank pursuing a paradigm shift in human responsibility towards, and value of, non-human animals by advancing animal law, animal policy, and related interdisciplinary studies.
The Brooks Institute for Animal Rights Law and Policy, Inc is dedicated to producing and disseminating outstanding, independent, academic, and public policy research and programming; and pursuing projects and initiatives focused on advancing law and policy pertaining to animals.
**********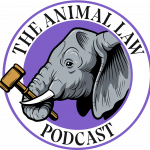 You can listen to the Animal Law Podcast  directly on our website (at the top of this page) or you can listen and subscribe on iTunes or your favorite podcatcher. Also, if you like what you hear, please rate it on iTunes, and don't forget to leave us a friendly comment! Of course, we would be thrilled if you would consider making a donation, or becoming a member of our flock (especially if you're a regular listener). Any amount is hugely appreciated and Our Hen House is a 501(c)(3) nonprofit organization, so it's tax-deductible. Thank you for helping us create quality content!
Don't forget to also listen to the award-winning,  weekly signature OHH podcast — now in its twelfth glorious year!