On this episode, I will be discussing State of Utah v Hsiung, the case that has everyone in the movement talking. Wayne Hsiung and Jon Frohnmeyer will be here to discuss the prosecution of Wayne, along with his co-defendant Paul Picklesimer, for burglary and theft for entering a huge Smithfield factory farm in Utah and, while there, rescuing two sick piglets. The trial is set to begin in early October. Among other things, we will discuss whether, and how, the necessity defense exists in Utah and, if so, whether it applies to the right to rescue sick and dying animals, and whether, given their condition, these piglets could be said to have any monetary "value," as required by the charges.
*We are thrilled to expand the accessibility of our podcast by offering written transcripts of the interviews! Click here to read Mariann's interview with Wayne Hsiung & Jon Frohnmayer.
Wayne Hsiung is a lawyer, former faculty member at Northwestern School of Law, former lead organizer of the global animal rights network Direct Action Everywhere (DxE), and co-founder of The Sanctuary Initiative. He has led teams that have rescued dozens of animals from factory farms, and has organized successful campaigns to ban fur in San Francisco and California. He faces decades in prison for challenging so-called "ag gag" laws across the nation and removing animals from labs, slaughterhouses, and farms for veterinary care. His work as an open rescue activist has been reported on in The New York Times, The Wall Street Journal, and ABC's Nightline. Wayne published research (with Cass Sunstein) on climate change's impact on wildlife, practiced law at two national firms, and had an active pro bono practice defending victims of domestic violence.
Jon Frohnmayer is an attorney and activist with Direct Action Everywhere. He graduated from Stanford University and the University of Oregon School of Law, where he was Editor in Chief of the Oregon Law Review and President of the Student Animal Legal Defense Fund. He worked for several years doing transactional law before moving into animal rights.
Resources:
**********
This episode of The Animal Law Podcast is brought to you in part by The Animal Law Conference. Co-hosted by the Animal Legal Defense Fund and the Center for Animal Law Studies at Lewis and Clark Law School — this year's conference marks the thirtieth anniversary of this premier animal law event. Save the date for November 4-6, 2022!
**********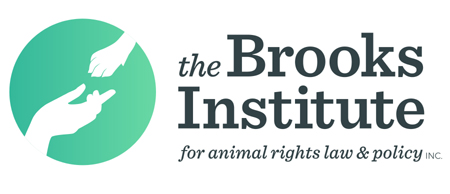 The Animal Law Podcast is proud to partner with The Brooks Institute for Animal Rights Law and Policy, Inc., a US-based national independent think tank pursuing a paradigm shift in human responsibility towards, and value of, non-human animals by advancing animal law, animal policy, and related interdisciplinary studies.
The Brooks Institute for Animal Rights Law and Policy, Inc is dedicated to producing and disseminating outstanding, independent, academic, and public policy research and programming; and pursuing projects and initiatives focused on advancing law and policy pertaining to animals.
**********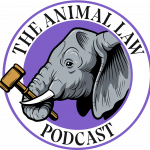 You can listen to the Animal Law Podcast  directly on our website (at the top of this page) or you can listen and subscribe on iTunes or your favorite podcatcher. Also, if you like what you hear, please rate it on iTunes, and don't forget to leave us a friendly comment! Of course, we would be thrilled if you would consider making a donation, or becoming a member of our flock (especially if you're a regular listener). Any amount is hugely appreciated and Our Hen House is a 501(c)(3) nonprofit organization, so it's tax-deductible. Thank you for helping us create quality content!
Don't forget to also listen to the award-winning,  weekly signature OHH podcast — now in its twelfth glorious year!