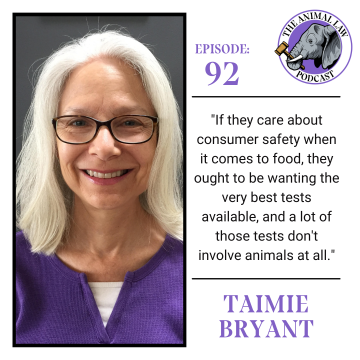 On this episode, I will be talking to Taimie Bryant, a law professor at UCLA School of Law. She will explain some of the ins and outs of a law review article she recently published in the Marquette Law Review entitled "Novel Food Ingredients: Food Safety Law, Animal Testing, and Consumer Perspectives." This article involves the question of what the FDA actually requires in order to authorize a new food product. Central to that question, as well as to a controversy about the development of Impossible Burgers, is whether animal testing is required in order to bring a new food to the market. And, even if it isn't required, is it wise for companies to reduce their legal risks by performing such testing? This is an essential question, as we are seeing so many new vegan foods hit the market, and most of us are hoping for more. But will animals have to suffer and die for that to happen?
*We are thrilled to expand the accessibility of our podcast by offering written transcripts of the interviews! Click here to read Mariann's interview with Taimie Bryant.
In addition to her other areas of expertise, Taimie Bryant has taught courses on animal law at UCLA Law School since 1994 and directs both the UCLA Animal Law and Policy Small Grants Program and the UCLA Dog Administrative Hearings Clinic. She has worked on legislation involving animal shelter law reform, declawing of cats, and currently, prohibiting glue traps. She has also written widely about topics related to animal law, including legal personhood, vegan enterprises, regulation of genetic manipulation of animals as artistic expression, and, most recently, the lack of legal requirements to test novel food ingredients on animals. 
Resources:
**********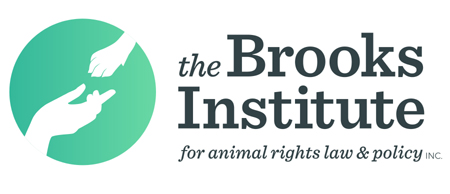 The Animal Law Podcast is proud to partner with The Brooks Institute for Animal Rights Law and Policy, Inc., a US-based national independent think tank pursuing a paradigm shift in human responsibility towards, and value of, non-human animals by advancing animal law, animal policy, and related interdisciplinary studies.
The Brooks Institute for Animal Rights Law and Policy, Inc is dedicated to producing and disseminating outstanding, independent, academic, and public policy research and programming; and pursuing projects and initiatives focused on advancing law and policy pertaining to animals.
**********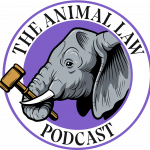 You can listen to the Animal Law Podcast  directly on our website (at the top of this page) or you can listen and subscribe on iTunes or your favorite podcatcher. Also, if you like what you hear, please rate it on iTunes, and don't forget to leave us a friendly comment! Of course, we would be thrilled if you would consider making a donation, or becoming a member of our flock (especially if you're a regular listener). Any amount is hugely appreciated and Our Hen House is a 501(c)(3) nonprofit organization, so it's tax-deductible. Thank you for helping us create quality content!
Don't forget to also listen to the award-winning,  weekly signature OHH podcast — now in its twelfth glorious year!