On today's episode, I will be talking to Margie Robinson, an attorney with the Humane Society of the United States. Margie will be telling us about Humane Society of the United States v National Institutes of Health, the latest lawsuit in the years-long effort to relocate to sanctuary ALL the chimpanzees formerly held for research by the National Institutes of Health and other federal agencies. 
It seems unbelievable that the NIH still retains some chimpanzees in a lab setting despite the Chimpanzee Health Improvement, Maintenance, and Protection (CHIMP) Act being passed by Congress in 2000. The CHIMP Act sets forth rules establishing a federal sanctuary program funded in substantial part by the federal government and mandating that eligible chimpanzees be retired to those sanctuaries. But, even though the chimpanzees still held in laboratory settings are fully eligible under the Act to be sent to sanctuary, the NIH has yet to comply fully, so here we are. 
Sometimes –  all too often – getting a statute passed to protect animals is only the beginning of the legal effort. 
*We are thrilled to expand the accessibility of our podcast by offering written transcripts of the interviews! Click here to read Mariann's interview with Margie Robinson.
Margie Robinson is a staff attorney at the Humane Society of the United States and has taught an animal law seminar at George Mason University Antonin Scalia Law School. Her current practice focuses on protecting wildlife both in the wild and in captivity, including countering cruel trophy hunting practices, advocating for former research chimpanzees, and defending fur sales bans.
**********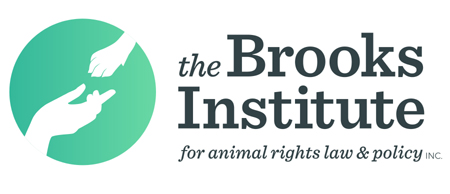 The Animal Law Podcast is proud to partner with The Brooks Institute for Animal Rights Law and Policy, Inc., a US-based national independent think tank pursuing a paradigm shift in human responsibility towards, and value of, non-human animals by advancing animal law, animal policy, and related interdisciplinary studies.
The Brooks Institute for Animal Rights Law and Policy, Inc is dedicated to producing and disseminating outstanding, independent, academic, and public policy research and programming; and pursuing projects and initiatives focused on advancing law and policy pertaining to animals.
**********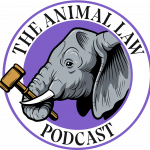 You can listen to the Animal Law Podcast  directly on our website (at the top of this page) or you can listen and subscribe on iTunes or your favorite podcatcher. Also, if you like what you hear, please rate it on iTunes, and don't forget to leave us a friendly comment! Of course, we would be thrilled if you would consider making a donation, or becoming a member of our flock (especially if you're a regular listener). Any amount is hugely appreciated and Our Hen House is a 501(c)(3) nonprofit organization, so it's tax-deductible. Thank you for helping us create quality content!
Don't forget to also listen to the award-winning,  weekly signature OHH podcast — now in its twelfth glorious year!