On this episode, I will be talking, once again, with Asher Smith, Director of Litigation at the PETA Foundation, about a recent victory in the 9th Circuit in Sullivan v The University of Washington. This case involves a crucially important aspect of the Animal Welfare Act – the IACUC, or Institutional Animal Care and Use Committee. The Act provides, rather unfortunately, that a great deal of the oversight of research facilities regarding the care of animals is essentially self-enforced, but it at least contains certain requirements regarding the makeup of the committee that does that oversight in an effort to provide some unbiased review. This litigation is one aspect of a longstanding effort on PETA's part to obtain the information the public needs and is entitled to in order to make sure that the statute's provisions regarding the committee are being complied with by the University of Washington, where a great deal of controversial research takes place, including on primates.  
*We are thrilled to expand the accessibility of our podcast by offering written transcripts of the interviews! Click here to read Mariann's interview with Asher Smith.
Asher Smith is Director of Litigation at the PETA Foundation. His current cases include actions under the Endangered Species Act against roadside zoos abusively keeping protected animals, constitutional lawsuits on behalf of both animals and humans, and false advertising claims challenging the deceptive marketing of animal products as "humane." He has previously won precedent-setting victories against multiple exhibitors featured on the Netflix show Tiger King, as well as against major research universities. Smith joined the PETA Foundation in 2018 after working for the law firm Paul, Weiss on matters including multibillion-dollar securities litigation and the fight for gay marriage in the deep south and at the Supreme Court. He is a graduate of Yale Law School. His family includes a cat, Princessa, and a dog, Beezus.
**********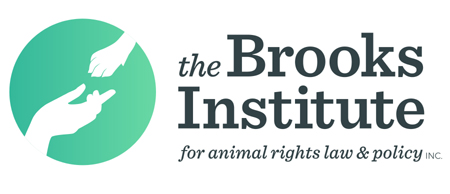 The Animal Law Podcast is proud to partner with The Brooks Institute for Animal Rights Law and Policy, Inc., a US-based national independent think tank pursuing a paradigm shift in human responsibility towards, and value of, non-human animals by advancing animal law, animal policy, and related interdisciplinary studies.
The Brooks Institute for Animal Rights Law and Policy, Inc is dedicated to producing and disseminating outstanding, independent, academic, and public policy research and programming; and pursuing projects and initiatives focused on advancing law and policy pertaining to animals.
**********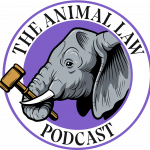 You can listen to the Animal Law Podcast  directly on our website (at the top of this page) or you can listen and subscribe on iTunes or your favorite podcatcher. Also, if you like what you hear, please rate it on iTunes, and don't forget to leave us a friendly comment! Of course, we would be thrilled if you would consider making a donation, or becoming a member of our flock (especially if you're a regular listener). Any amount is hugely appreciated and Our Hen House is a 501(c)(3) nonprofit organization, so it's tax-deductible. Thank you for helping us create quality content!
Don't forget to also listen to the award-winning,  weekly signature OHH podcast — now in its twelfth glorious year!