On this episode,  we have something a bit different. I will be talking with Kristina Bergsten, the owner and founder of The Animal Law Firm, a Colorado law firm with a multi-state practice. For those of you who are graduating from Law School or just looking to change your career and wondering whether you can make a living doing animal law, Kristina is here to tell you the answer is a resounding yes. Her firm specializes primarily in companion animal issues which, of course, are important and often underserved in and of themselves but also, in Kristina's eyes, are part of the process of waking people, and the legal system, up to the idea that animals matter and the people who care about them matter too. This was a fascinating conversation and I'm sure it will be inspiring to many of you.
*We are thrilled to expand the accessibility of our podcast by offering written transcripts of the interviews! Click here to read Mariann's interview with Kristina Bergsten.
"Kristina Bergsten is the owner and founder of The Animal Law Firm. She started practicing animal law in Philadelphia, Pennsylvania before moving to Colorado to be close to mountains and, of course, lots of animals! As a vegan, her passion for animal rights extends to every area of her life. Her current pet projects (pun intended) consist of writing, directing, and producing her podcast, titled "Fighting for the Underdog," founding a charitable foundation to help human and animal welfare organizations, writing novels, and spending lots of time with her furry children, Maggie and Sophie.
Kristina is a 2018 COBALT Class graduate, a Board Member of Colorado Voters for Animals and the Denver Indian Family Welfare Center, an active member of the Colorado and Denver Bar Associations, a member of the Colorado Trial Lawyers Association, and a nationally and internationally recognized animal advocate."
**********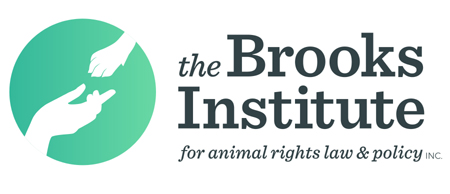 The Animal Law Podcast is proud to partner with The Brooks Institute for Animal Rights Law and Policy, Inc., a US-based national independent think tank pursuing a paradigm shift in human responsibility towards, and value of, non-human animals by advancing animal law, animal policy, and related interdisciplinary studies.
The Brooks Institute for Animal Rights Law and Policy, Inc is dedicated to producing and disseminating outstanding, independent, academic, and public policy research and programming; and pursuing projects and initiatives focused on advancing law and policy pertaining to animals.
**********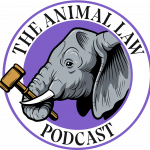 You can listen to the Animal Law Podcast  directly on our website (at the top of this page) or you can listen and subscribe on iTunes or your favorite podcatcher. Also, if you like what you hear, please rate it on iTunes, and don't forget to leave us a friendly comment! Of course, we would be thrilled if you would consider making a donation, or becoming a member of our flock (especially if you're a regular listener). Any amount is hugely appreciated and Our Hen House is a 501(c)(3) nonprofit organization, so it's tax-deductible. Thank you for helping us create quality content!
Don't forget to also listen to the award-winning,  weekly signature OHH podcast — now in its thirteenth glorious year!