Civil rights attorney Matthew Strugar joins me this week to talk about a case in Washington, DC, involving the rights of animal activists protesting the sale of foie gras at two prominent restaurants in that city. Our conversation will involve the controversial use of anti-stalking laws to limit protests, as well as the successful use of DC's anti-SLAPP law to defend the right to protest. Both of these statutes, or ones similar to them, can be found in jurisdictions all over the country, and this is, therefore, an important topic for anyone interested in the right to protest, as well as, more specifically, anyone interested in the welfare of the ducks and geese who suffer in the production of this gruesome so-called delicacy.
Matthew Strugar has been vegan since 1996 and a protest lawyer since 2004. He worked at the Center for Constitutional Rights and the PETA Foundation before starting his own firm in Los Angeles in 2016, which specializes in civil rights, prisoners' rights, police misconduct, and protester defense while maintaining animal law as an important aspect of the practice.
INTERVIEW TRANSCRIPT
Mariann Sullivan: Welcome back to the Animal Law Podcast, Matthew.
Matthew Struger: Thank you. Long time listener, third time guest.
**********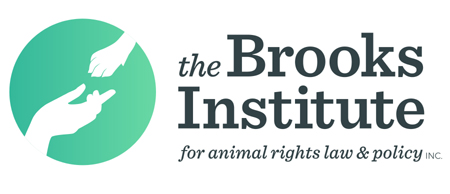 The Animal Law Podcast is proud to partner with The Brooks Institute for Animal Rights Law and Policy, Inc., a US-based national independent think tank pursuing a paradigm shift in human responsibility towards, and value of, non-human animals by advancing animal law, animal policy, and related interdisciplinary studies.
The Brooks Institute for Animal Rights Law and Policy, Inc. is dedicated to producing and disseminating outstanding, independent, academic, and public policy research and programming; and pursuing projects and initiatives focused on advancing law and policy pertaining to animals.
**********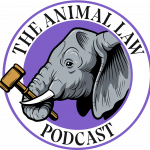 You can listen to the Animal Law Podcast directly on our website (at the top of this page) or you can listen and subscribe on iTunes or your favorite podcatcher. Also, if you like what you hear, please rate it on iTunes, and don't forget to leave us a friendly comment! Of course, we would be thrilled if you would consider making a donation or becoming a member of our flock (especially if you're a regular listener). Any amount is hugely appreciated, and Our Hen House is a 501(c)(3) nonprofit organization, so it's tax-deductible. Thank you for helping us create quality content!
Don't forget to also listen to the award-winning,  weekly signature OHH podcast — now in its thirteenth glorious year!