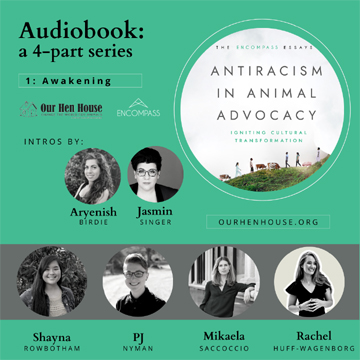 Our Hen House is pleased to welcome you to the first episode of the four-part audio series of the groundbreaking book, Antiracism in Animal Advocacy: Igniting Cultural Transformation. Our very own Jasmin Singer is the editor of this new anthology published by Lantern Books and Media, in collaboration with Encompass, Sentient Media, and, of course, Our Hen House. 
The book is a collection of essays written by farmed-animal protection advocates who are committed to exploring and prioritizing racial equity as we work to create a more just animal protection movement. We wish to document our stories and processes in an exploratory space from which we can grow and use our words to hold ourselves and our peers accountable, ultimately creating new paths forward.
We begin the first of this audio series with a glossary of terms to best clarify the meaning of words or phrases relating to antiracism which may be referenced throughout the essays (thank you to Encompass for providing this glossary!). We then bring you the foreword presented by Aryenish Birdie (she/her), the founder and executive director of Encompass, which focuses on building a racially equitable animal protection movement. This is followed by the introduction to the book by Our Hen House's co-founder and Executive Director, Jasmin Singer (she/her)—editor of this anthology, author, and longtime animal activist and public speaker. 
The first episode of this audio series is labeled Awakening and corresponds with the first section of the print copy of the book. In this episode, we hear from the following four essay authors, each of them sharing their eye-opening experiences: 
Shayna Rowbotham

(she/her) is the organizing manager for the US for Mercy For Animals, an international farmed animal protection organization; she's based in New York, New York.

PJ Nyman

(they/them) is a Corporate Relations Specialist at Mercy For Animals and holds a Master's Degree in Social & Political Thought from York University in Toronto.

Mikaela Saccoccio

(she/her) is the Executive Director of Farmed Animal Funders, a donor learning community whose members give $250k+ annually to charitable initiatives fighting factory farming. (Please note: Mikaela's essay is narrated by Jasmin.) 

Rachel Huff-Wagenborg

(she/her) is an ardent animal activist making strides to open her eyes and heart to all injustices, and currently works as the Vice President of Operations at The Humane League.
You can purchase the hard copy of Antiracism in Animal Advocacy: Igniting Cultural Transformation wherever books are sold, or find out more information at encompassmovement.org/book.
"If you have come to help me, you are wasting your time. But if you recognize that your liberation and mine are bound up together, we can walk together." —Lilla Watson
Resources:
This anthology was originally an online collaboration between Encompass, Our Hen House, and Sentient Media, and was titled Encompass Essays: Pursuing Racial Equity in Animal Advocacy. For citations of any of these essays, please visit the online version. Sentient Media is a robust digital platform that publishes thoughtful articles about animal agriculture and its impact on the world (don't miss Our Hen House's interview with Sentient Media's Executive Director, Ana Bradley). 
Connect with Our Hen House:
__________________________

This episode is brought to you in part through the generosity of A Well-Fed World. A Well-Fed World provides the means for change by empowering individuals, social justice organizations, and political decision makers to embrace the benefits of plant-based foods and farming. Learn more at awfw.org.
__________________________
You can listen to our podcast directly on our website, or subscribe on Apple Podcasts or your favorite podcatcher! Also, if you like what you hear, please rate it and leave us a comment on Apple Podcasts! Of course, we would be thrilled if you would also consider making a donation, or becoming a member of our flock (especially if you're a regular listener). Any amount is hugely appreciated, and Our Hen House is a 501(c)(3) nonprofit organization, so it's tax-deductible! Thank you for helping us create quality content, and for helping us bring you a new podcast episode each week!
Don't forget to tune into Our Hen House's other two podcasts: The Teaching Jasmin How to Cook Vegan Podcast, and The Animal Law Podcast.
The Our Hen House theme song is written and performed by Michael Harren.