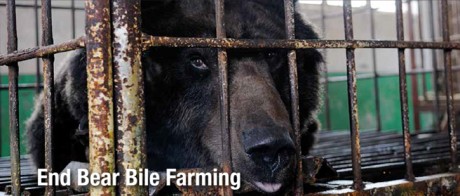 We have been huge fans of the work of Animals Asia for a while, but especially after we reviewed their documentary Cages of Shame (on Episode 115 of our podcast). Cages of Shame tells the story of the dramatic rescue of 10 bears from a bile farm in Shandong Province, China. Animals Asia — the organization featured in the film — has been rescuing bears since 1994 — and is the only organization with a bear sanctuary in China. If bear bile farming is new to you, well, then I'm sorry to be the one to break the news. According to the organization:
More than 10,000 bears – mainly moon bears, but also sun bears and brown bears – are kept on bile farms in China, and around 2,400 in Vietnam. The bears are milked regularly for their bile, which is used in traditional medicine. Bile is extracted using various painful, intrusive techniques, all of which cause massive infection to the bears. This cruel practice continues despite the availability of a large number of effective and affordable herbal alternatives. Most farmed bears are kept in tiny cages. In China, the cages are sometimes so small that the bears are unable to turn around or stand on all fours. Some bears are put into cages as cubs and never released. Bears may be kept caged like this for up to 30 years.
This is earth-shattering, yes; but the courageous work that Animals Asia does to fight this sick industry is hopeful and completely necessary. And it's working.
Mariann and I are elated to help support the life-saving work of Animals Asia by acting as the emcees for the upcoming NYC concert, Bands for Bears — an evening of fantastic live music spanning experimental folk melodies to powerful bluesy refrains. Funds raised at "Bands for Bears" will benefit Animals Asia's End Bear Bile Farming program. According to the press release:
'Bands for Bears' will feature performances by New York City based artists Bird Courage, Forge the Bell and Carl Banks, as well as a personal introduction to Animals Asia's work by the organization's founder and CEO Jill Robinson, MBE. Audiences will also hear from Animals Asia US Director Morgan Lance, and the directors of the organization's China and Vietnam Bear and Vet teams, who will talk about the bear residents of Animals Asia's sanctuaries.
It will be nothing short of thrilling to share a stage with Jill Robinson — a hero to us, to so many other animal advocates, and, of course, to countless animals whose lives are saved due to her relentless drive to end their suffering once and for all.
"Bands for Bears" will take place on Thursday, October 3 at 6 p.m. at Rockwood Music Hall (196 Allen Street; New York, NY). Tickets are $15 and must be purchased in advance either through bandsforbears.bpt.me or by calling 1-800-838-3006.
I sincerely hope you will join us. In addition to being insanely excited about this event, I'm also such a big fan of these types of fundraisers — those which bring together the arts and social justice causes. Rockwood Music Hall is an incredible venue (I've had the privilege of seeing vegan performer Joy Askew sing there). Hosting a concert like this at such a reputable place is a spot-on way to bring together music fans with those who are passionate about animal issues.
Back when I was the campaigns manager at Farm Sanctuary, I used to help organize and host concerts at a bar/music venue in the West Village. We invited local bands to perform, and in between sets we would talk about the rescue efforts of the organization. We handed out vegan food and recipe brochures, and the band members were extremely supportive in talking (and in some cases singing) about animal issues whenever and however they could. We even worked with the bar so that they offered "Soy White Russians" — the vegan version of the cocktail traditionally made with cows' milk. I've been involved with organizing countless benefits, and as I look back, I am reminded that this fund- and awareness-raiser was one of the simplest and most satisfying events to put together — not to mention one of the most effective. I encourage anyone with an interest in music and a passion for animal rights to follow suit and organize a concert similar to "Bands for Bears."
And if you're anywhere near NYC, Mariann and I hope to see you on October 3.