Today we're excited to welcome back reviewer extraordinaire Katrina Donovan Fleming to get her take on a poignant picture book by Alan Rabinowitz, all about finding one's own voice and amplifying the voices of those around you who have less power to do so.
***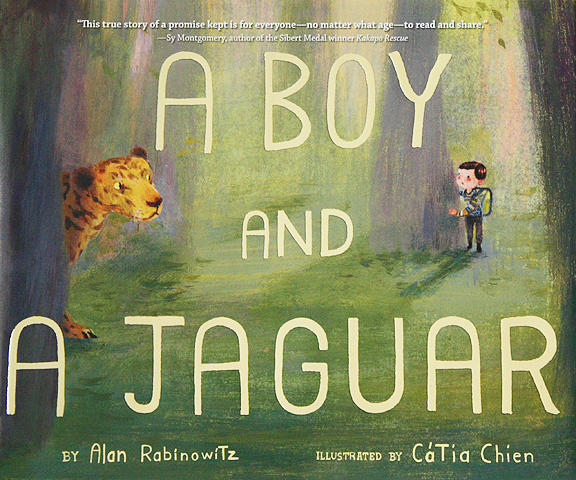 Book Review: A Boy and A Jaguar by Alan Rabinowitz, Illustrated by Catia Chien
Review by Katrina Donovan Fleming
Rarely does a picture book put a lump in my throat. Rarer still does that same book manage to entrance my room of third-grade students – their eyes big, their mouths open, their bodies leaning forward, the whole bit.
In his autobiography A Boy and a Jaguar, Alan Rabinowitz tugs at the heartstrings of adults and kids alike, as he shares his experiences growing up as a stutterer in a world that shut him out. For anyone who has ever felt they were on the outside looking in – and isn't that everyone, at one point or another? – this book runs deep. While it is a quick read, the book's messages leave the reader both heartbroken and uplifted.
Alan's stuttering isolates him from everyone except – you guessed it – animals. When he talks to animals, his stuttering magically disappears. (It disappears, too, when he sings.) Every day, Alan returns home from school to his hamster, gerbil, turtle, chameleon, and garter snake – and talks to them with no breaks in his speech:
"I tell them my dreams. I tell them that I want to be able to speak like everyone else.
I know that my pets listen and understand. Animals can't get the words out, just as I can't get the words out. So people ignore or misunderstand or hurt them, the same way people ignore or misunderstand or hurt me.
I make a promise to my pets.
I promise that if I can ever find my voice, I will be their voice and keep them from harm."
Later, Alan goes to the Bronx Zoo to visit a lonely, imprisoned jaguar whom he has come to love. And he whispers the same promise to her.
Fast forward to college. Alan is part of an experimental program that teaches him methods to work around his stuttering so that he can become a fluent speaker. Despite his success at overcoming his stuttering, Alan continues to feel broken on the inside.
Not surprisingly, Alan's comfort with animals leads him to work with them all over the world, studying their different habits. Initially, he travels to the Great Smoky Mountains to learn about black bears. There, he realizes, "[a]lone in the forest with the animals, I am home."
Alan's travels ultimately take him to Belize where he studies jaguars, gathering information that might save them from the hunters who are rapidly killing them for sport. Given only fifteen minutes to state his case to the country's prime minister, he uses his now-fluent voice to successfully convince the leader to set up the world's first jaguar preserve. In doing so, Alan kept his childhood promise that he made to his jaguar friend from the Bronx Zoo so long ago.
With this fresh success, he returns to the jungles of Belize to continue his work. By then, Alan is familiar with all the jaguars in the area and is surprised to see a new set of much larger jaguar prints. He follows them, and what happens next is astounding… but you don't expect me to give away everything, do you? All I can say is that chills abound.
The message of being a voice for the animals rings loud and clear in this story. Kids get it (my students certainly did), and they can relate quite easily to not having a voice. The story brings to the forefront the idea that animals don't have human voices, so their pain and fear is not heard by humans. Readers learn that if they want humans to stop hurting animals, then they are the ones who have a responsibility to stop it. The animals are powerless in this respect.
Just as that message is so empowering, so too is the fact that Alan fulfills a boyhood promise as a grown-up. He didn't forget about the animals once he gained his voice; both his empathy and his connection to them remained strong. What a terrific inspiration for young kids, who often feel that they will never grow up and will never have a voice. Remember how far away adulthood seemed when you were young?
Now here's the disappointing part of the book: Alan Rabinowitz in neither vegan nor vegetarian. He was asked the question in an interview a few years back, and he shared that it would be impossible to do the work that he does in the field, eating what locals cook for you, without eating animal meat. While it is easy to immediately dispute that logic, I remember making the same argument when, in my pre-vegan days, I moved to Bolivia to work in the Peace Corps for three years. To me, vegetarianism (I didn't know what vegan meant) was a wall that would separate me from the culture with which I was trying so hard to connect. And it's true that the local culture there did indeed make it very tricky to turn away any food that was offered to me, animal meat or otherwise. Once there, though, I was surprised to see a few vegetarian volunteers doing quite well in their work and making wonderful connections with their Bolivian counterparts. Certainly the Bolivians must have found them odd – though, in truth, they probably found all of us to be a bit quirky – but it didn't seem to affect the great work these volunteers accomplished. It was a tremendous lesson to me, and one I would love to chat more about with the author.
The information about stuttering fascinated my students. Alan Rabinowitz is a spokesperson for the Stuttering Foundation of America. As a class, we explored the foundation's website and watched a terrific video called "Stuttering: For Kids, by Kids," which helped us to understand what stuttering is, what it feels like, the bullying that stutterers can receive, and how to talk with someone who is stuttering (most importantly, be patient and don't finish sentences for them). I urge you to check out both the website and the video – they each changed my own understanding of stuttering.
To explore more about protecting wild cats of the world, you and the child in your life can use www.panthera.org to learn about what steps one can take to protect jaguars and other cats.
Maggie Kuhn's famous words replayed in my head while reading and thinking about this book: "Speak the truth, even if your voice shakes." And while Alan learns to make his voice smooth, his inner message never changed. He spoke, and though it must have been very intimidating to address a country's leader, his courage and devotion changed the lives of countless jaguars.
***

Katrina Donovan Fleming is a writer, teacher, artist, gardener, and returned Peace Corps volunteer who became vegan almost four years ago at the tender age of 40. She lives just outside of Boston with her husband, dog and cat, and writes a blog called Suburban Snow White, where she muses on creating and enjoying an animal-friendly life. She has also previously contributed to Vegbooks. A professionally trained flutist, Katrina now dabbles in banjo, a development likely inspired by Kermit.