We are delighted to welcome Stephen Lukas back to Our Hen House today to review Survival Skills: Stories (Ashland Creek Press, 2013) by Jean Ryan.
***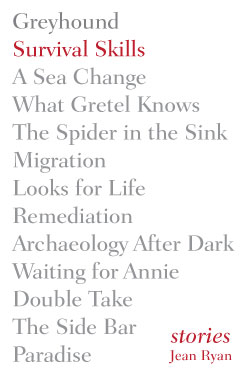 Book Review: Survival Skills: Stories by Jean Ryan
Review by Stephen Lukas
Short stories are hotbeds of frugality: extraneous words are afforded no safe hiding place. The writer exercises precision and economy, plying a metaphorical scalpel and splicing only what's needed, while the superfluous is jettisoned. Short stories are the Venus flytrap of narratives, luring the unsuspecting reader in, then bam – slamming shut, preventing escape.
With Survival Skills: Stories (Ashland Creek Press, 2013), Jean Ryan sets a series of such traps that manage – while we are inside, caught up in the narrative – to pry our eyes away from ourselves to gaze, momentarily, at the living world around us. Plants, insects, and animals inhabit these tales with as much relevance as people. As a horticultural enthusiast and obvious animal lover, the author parts a curtain revealing the vulnerability and interconnectedness of all life – humans, flora, and fauna alike. Her characters, human and otherwise, live in the real world, where there is consumption of ribs, grilled salmon, and oven-ready pork tenderloins. These individuals are subject to accidents, calamities, and change. And yet, Ryan's stories are not only of endings, but of healing, and survival.
In "A Sea Change," a woman is transformed by what she learns volunteering at an aquarium, though her transformation is not necessarily a welcome one to the narrator, her partner.
Antonia was probably the most dedicated volunteer the aquarium ever had. In her zeal to learn she must have logged fifty hours a week, moving beyond the touch tanks and gaining access to the research labs. At first I was happy for her, delighted to see her so enthralled, but I began to miss our time together – and then came the trouble with food. It wasn't just oysters; she gave up all sea life, everything that clung, scuttled, drifted, or swam.
Like Antonia, many vegans experience similar moments of truth – epiphanies when it comes to non-human animals that do not always sit well with the other humans in their lives. Also like Antonia, that epiphany often comes as a result of a connection with individual animals. Ryan deftly conveys this experience in word pictures that reveal not only the awakening of Antonia, but the complex sentience of the creatures she encounters.
When coaxed, she would offer up snippets of her workday: the baby otter that refused to swim on its back, the jellyfish that glowed in the dark like small, floating airports. But what she found most beguiling, what she mentioned most often, were the octopuses. The way they watched you, she explained, with those big yellow eyes moving on stalks. You could see, in the black rectangle of their pupils, a spark of intelligence, a hint of something canny and unfathomable. If they trusted you, she said, they would pull themselves out of the bottles they lived in and, extending a tentative arm, they would start to touch you, all over, their suckers tasting and smelling at once.
Sea creatures may seem like an unlikely starting place for a writer who seeks to draw her readers into an empathic response to her non-human characters, but in "The Spider in the Sink," Ryan takes even greater risks by focusing on insects as the beings worthy of compassion and, perhaps, even gratitude.
But what about the spider in the sink? No bigger than an aspirin, it shrinks in terror when your hand approaches. Somewhere the little fellow made a wrong turn; it does not want to be in your sink, and now it can't get out. With a splash of water, you could send it down the dark hell of your plumbing; you wouldn't even have to look. There is a chance the wee bug would never cross your mind again. 
You don't take that chance. You tear off a piece of toilet paper and nudge it beneath the creature, and in your nightgown you walk through the house and out the back door, and you shake the tissue over a bush. One day perhaps this spider will eat the aphids off your rosebuds. But that is not why you save it.
While a relationship with a spider is, by necessity, always at a distance, in other stories, the relationships that Ryan portrays are far more intimate. Indeed, Ryan match-makes interactions between humans and animals that demonstrate a very deep level of mutual healing and support, even if the relationship is one that the human sometimes has difficulty accepting.
In "Migration," a Canadian goose becomes enamoured with a recently divorced woman whose philandering husband left her for another woman.
The goose marched right over, nudged her hand with its glossy bill. She stroked its supple neck, the cool sleeve of black feathers sliding beneath her fingertips … So, a goose could become smitten with a person. Why her, though? … She wanted to see this infatuation as a compliment, evidence of her value, but how much credit could you give a goose?
In "What Gretel Knows," a beagle is the keeper of her owner's secrets, which, perhaps, makes it easier to accept the genuineness of the relationship.
A dog's mind is too wide and pure for judgment. Gretel's foremost concern is my happiness, which she endlessly encourages me to pursue. Still, there are times when I walk in the house after being with Sam, and she gives me a long, questioning look. Do you know what you're doing? she telegraphs. Are you sure this won't wreck our lives?
Show me a dog lover who isn't familiar with that experience. As the guardian of a 15-year-old beagle, I, too, have been ogled by our Gracie – profoundly long, almost awkward moments of silence that feel like she is penetrating my soul with her coffee-colored, woebegone eyes.
As the title of this collection illustrates, these are indeed stories of survival. Whether it's the death of loved ones, a breakup, an accident, or even a tornado – the author presents, with hard-to-ignore similarities, how connected and susceptible humans and the natural world's creatures are. All are required to adjust and adapt – if we are to survive.
Survival Skills: Stories affirms the intrinsic value of all living things. Paying closer attention to lives that are not ours is the first step toward changing the world for animals. Each of these stories is a lesson in how to take that step.
***

Stephen Lukas
is a human resources consultant working for a large, international financial services company. In July, 2011, after 10 years as a vegetarian, he became a vegan. Stephen runs, practices hot yoga, volunteers at the local SPCA, and nurtures a manic addiction to vegan baking. He lives just outside of Halifax, Nova Scotia, Canada, with his husband of 19 years, Peter; their beagle, Gracie; and a most handsome gray tuxedo kitty, Seamus.