Vegan Score caught our eye recently, and gave us a relentless yearning to visit Seattle (and get ourselves a few Mighty-O doughnuts — OMG). The purpose of Vegan Score is to highlight everything vegan in the Emerald City — from parties to people to all kinds of delicious food. (They have a Facebook fan page, too.) The brains behind Vegan Score is Anika Lehde, who proclaims: "I am not a good cook, writer, photographer, or proof-reader. This blog is not designed to highlight any of those skills. On the other hand, I am good at finding stuff and liking stuff, so expect lots of that."
Vegan Score is not that dissimilar from NYC's SuperVegan, which was created as an effort to bypass the cheese and become the be-all and end-all ultra super vegan NYC site.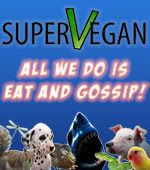 Creating a vegan blog in your city or county that highlights all of the vegan goings-on is a super-simple, incredibly effective way of bringing attention to vegan goodness. This kind of reference blog is especially needed in smaller towns. Though small towns obviously don't have all of the vegan restaurants that NYC or Seattle offer (many don't even have one vegan restaurant), there are still vegan options — or veg-friendly establishments — that you could put in your blog. Maybe there's a Chinese place that has a mean bean curd and broccoli, or maybe you finally convinced your downtown coffee place to offer soy milk. Maybe there's a sale on Skinny Bitch at your local bookstore, or maybe a really cool vegan activist is giving a talk at your library. Having a blog would highlight those vegan gems, bring awareness to the fact that yes, they do exist, and assist in creating the demand that the establishments need in order to expand their vegan options. Also — for people like me, who sometimes wind up traveling to very random places — having a reference like that would be extremely helpful.
Oh, and having a blog is fun — and it can be done for free. So you basically have no excuses. Go shed some light already, will you?