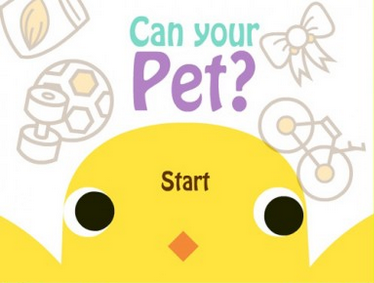 I can honestly say that I never know where I'll end up when I set out to write about something interesting that someone is doing on behalf of animals. But, in fact, it's the Our Hen House commitment to go wherever anyone is doing anything to change the world for animals, so I do my best to be intrepid.
In light of that commitment, and in spite of my woeful ignorance on the subject of video games,  today I am pretending that I am up to the task of letting you know about one game that recently caught our attention.  Though there's no way to do it without giving away the surprise ending so this is officially a SPOILER ALERT.
In Can Your Pet, the player adopts a pet — it seems to be a little bird — and, after dressing him (her?) and coming up with a name — has to learn how to feed, bathe, and play with him. Cute. And there seems to be a good lesson here for animal lovers — you get rewarded as you take good care of your pet. Very commendable.
But then things get very bizarre. In a seemingly unavoidable twist, this sweet little birdie is suddenly thrown between two spinning blades, slaughtered and put in a can. (Get it? CAN your pet.) In the background, animated body parts float by with a backdrop of real chickens and pieces of chickens as the game comes to a gruesome close.
It's hard to know whether the developer of this game was truly trying to convey an animal rights message, or was simply trying to shock. My guess would be the former, but either way, this game is pretty cool. OK, by itself it may not turn anyone vegan, but it's one more way to convey the message that the animals on your plate are no different from the animals you love. And once even the thickest people get that message a thousand or so times, they're going to start thinking. So all we have to do is come up with a thousand ways to say it. I would say that Can Your Pet is doing a pretty effective job of being one of those ways.
BTW, if you're as ignorant as I am about video games, and don't want to take the time to figure out how to play it yourself, you can, as I did, just watch a video of this incredibly annoying person playing it instead. In fact, his reaction when his pet hits the blades is kind of interesting, since he immediately gets it that there is a vegan message in this game, though he pretty quickly recovers his snark.