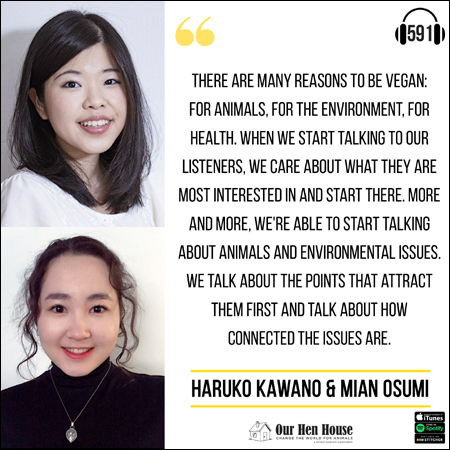 We're thrilled to welcome Haruko Kawano and Mian Osumi of VegeProject Japan to the podcast this week for an informative and fascinating conversation about Japan's growing vegan movement. Founder of VegeProject Japan, Haruko discusses how she successfully helped implement vegan-friendly options at Kyoto University during her time there as a student and how, after graduation, inspired by her dog, she founded VegeProject to help make vegan-friendly options more accessible throughout Japan. She also shares how a once-in-a-lifetime meeting with Paul McCartney encouraged her to continue doing this critical work. Haruko is joined by Mian Osumi, VegeProject's International Representative, who  gives us a can't-miss historical overview of how colonialism introduced dairy and beef into the modern Japanese diet.
Haruko's VegeProject Japan is a non-profit organization that helps industries produce vegan products, issues vegan certifications, collaborates with companies, and works with local administrators on community development. Mian Osumi is a vegan content creator and former Food and Nutrition Intern with The Humane Society of the United States.
"There are many reasons to be vegan: for animals, for the environment, for health. When we start talking to our listeners, we care about what they are most interested in and start there. More and more, we're able to start talking about animals and environmental issues. We talk about the points that attract them first and talk about how connected the issues are."
– Haruko Kawano and Mian Osumi
Interview Highlights:
How Haruko initiated a vegan food program within Kyoto University
How dairy and beef were introduced in Japan
How VegeProject Japan is working with corporations and what their long term goals are
The products that VegeProject Japan has been instrumental in getting introduced into supermarkets
The two central purposes of VegeProject Japan
How Haruko plans to popularize vegan products and create more demand
Haruko's outreach and educational work around the benefits of a plant-based lifestyle
The factory farming situation in Japan and where the majority of the country's animal products come from
The national VegeMap project and why Haruko was inspired to create an accessible way for vegans to find plant-based restaurant
Resources:
Connect with VegeProject Japan:
Connect with Our Hen House:
__________________________

This episode is brought to you in part through the generosity of A Well-Fed World. A Well-Fed World provides the means for change by empowering individuals, social justice organizations, and political decision makers to embrace the benefits of plant-based foods and farming. Learn more at awfw.org.
__________________________
You can listen to our podcast directly on our website, or subscribe on Apple Podcasts or your favorite podcatcher! Also, if you like what you hear, please rate it and leave us a comment on Apple Podcasts! Of course, we would be thrilled if you would also consider making a donation, or becoming a member of our flock (especially if you're a regular listener). Any amount is hugely appreciated, and Our Hen House is a 501(c)(3) nonprofit organization, so it's tax-deductible! Thank you for helping us create quality content, and for helping us bring you a new podcast episode each week!
Don't forget to tune into Our Hen House's other two podcasts: The Teaching Jasmin How to Cook Vegan Podcast, and The Animal Law Podcast.
The Our Hen House theme song is written and performed by Michael Harren.