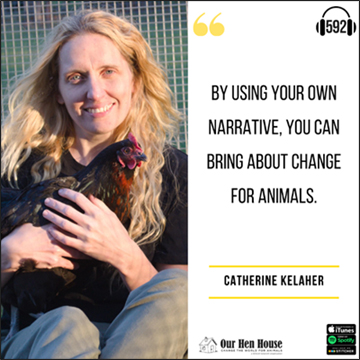 Author, animal activist, and founder of Australia's NSW Hen Rescue Catherine Kelaher joins us today to provide insight into her rescue work, share her most harrowing rescue experience (and the subsequent court case!), and detail how she goes about the rehoming process for rescued hens. She also tells us about her latest book, Saving Animals, a how-to guide for aspiring activists, and just wait till you hear about how Our Hen House helped bring it into existence! (We're kvelling!!) Catherine and Jasmin also discuss everything from the many problems with hatching programs in schools to the importance of taking care of yourself when caring for others.
Catherine is a vegan animal activist, feminist, and children's book author who has dedicated her life to liberating caged hens. Catherine's NSW Hen Rescue works to rehabilitate and rehome hens and other animals from factory farms. Both she and NSW Hen Rescue have received awards for animal activism and rescue. Catherine was born and raised in England and studied English literature and creative writing at Kingston Upon Thames University. She moved to Sydney, Australia, in 2006 and has been rescuing animals and trying to make the world a better place ever since.
"By using your own narrative you can bring about change for animals."
– Catherine Kelaher
Interview Highlights:
Why Catherine decided to write Saving Animals and some of the amazing young activists she spoke to
Catherine's best care tips for companion animals
Why we need to be honest with children and young people about what happens to animals
How to introduce children to animal rights and the need for equality
Insights into Catherine's work at the NSW Hen Rescue, the hens she is currently caring for, and where they have been rescued from
The difficulties and joys of rescuing roosters and how to deal with them as compassionately as possible
Resources:
Connect with Catherine Kelaher:
Connect with Our Hen House:
__________________________

This episode is brought to you in part through the generosity of A Well-Fed World. A Well-Fed World provides the means for change by empowering individuals, social justice organizations, and political decision makers to embrace the benefits of plant-based foods and farming. Learn more at awfw.org.
__________________________
You can listen to our podcast directly on our website, or subscribe on Apple Podcasts or your favorite podcatcher! Also, if you like what you hear, please rate it and leave us a comment on Apple Podcasts! Of course, we would be thrilled if you would also consider making a donation, or becoming a member of our flock (especially if you're a regular listener). Any amount is hugely appreciated, and Our Hen House is a 501(c)(3) nonprofit organization, so it's tax-deductible! Thank you for helping us create quality content, and for helping us bring you a new podcast episode each week!
Don't forget to tune into Our Hen House's other two podcasts: The Teaching Jasmin How to Cook Vegan Podcast, and The Animal Law Podcast.
The Our Hen House theme song is written and performed by Michael Harren.