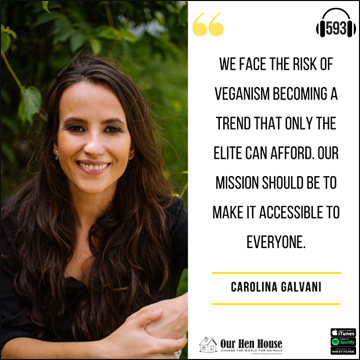 Carolina Galvani, founder and CEO of the global animal-advocacy organization Sinergia Animal, joins Mariann on the podcast today for an insightful conversation about animal protection and veganism in the Global South. Carolina shares why she felt the need to launch Sinegeria Animal, how the organization is working to eradicate cruel treatment of animals while promoting plant-based diets, and how she's helping to convince major dairy industry players to forgo the use of antibiotics and the killing of male calves. She also shares how rising incomes are leading to a rise in meat consumption in the Global South and discusses opportunities to slow down the rising popularity of meat by steering consumers toward vegan alternatives.
Carolina founded Sinergia Animal, an animal protection organization based in Brazil that focuses its efforts on reducing the suffering of farmed animals in the countries of the Global South. Her work on animal welfare has been featured in prominent media outlets including the BBC, The New York Times, and Le Monde. Carolina has worked with several NGOs in 30 countries to highlight animal welfare issues, including serving as Senior Campaign Manager at Humane Society International in Brazil and as the Latin American Campaign Director for farmed animals at Forum Animal, Brazil's largest animal protection network.
"We face the risk of veganism becoming a trend that only the elite can afford. Our mission should be to make it accessible to everyone." – Carolina Galvani
Interview Highlights:
Why Carolina founded an organization that exclusively focuses on farmed animals in the Global South
How Carolina is collaborating with Open Wing Alliance on global initiatives
Why Sinergia Animal is working with The Coalition for Aquatic Conservation to highlight the plight of aquatic animals
Carolina highlights the aims of the Cage-Free campaign, explains how Sinergia Animal is approaching corporate players, and when they expect achieve their goals
Whether the Global North has an obligation to help solve climate and other environmental problems facing the Global South
Sinergia Animal's strategic plan and how they see their work progressing over the next 10 years
Connect with Carolina Galvani:
Connect with Our Hen House:
__________________________

This episode is brought to you in part through the generosity of A Well-Fed World. A Well-Fed World provides the means for change by empowering individuals, social justice organizations, and political decision makers to embrace the benefits of plant-based foods and farming. Learn more at awfw.org.
__________________________
You can listen to our podcast directly on our website, or subscribe on Apple Podcasts or your favorite podcatcher! Also, if you like what you hear, please rate it and leave us a comment on Apple Podcasts! Of course, we would be thrilled if you would also consider making a donation, or becoming a member of our flock (especially if you're a regular listener). Any amount is hugely appreciated, and Our Hen House is a 501(c)(3) nonprofit organization, so it's tax-deductible! Thank you for helping us create quality content, and for helping us bring you a new podcast episode each week!
Don't forget to tune into Our Hen House's other two podcasts: The Teaching Jasmin How to Cook Vegan Podcast, and The Animal Law Podcast.
The Our Hen House theme song is written and performed by Michael Harren.