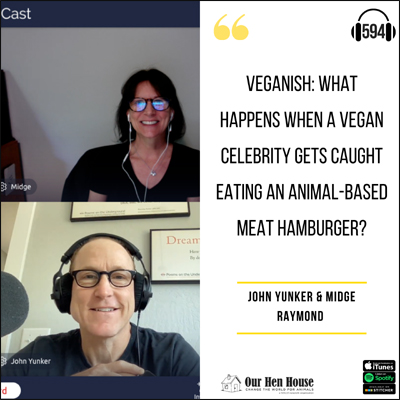 We're excited to switch things up this week to bring you a discussion of vegan representation in the arts and an unforgettable performance! John Yunker and Midge Raymond, co-founders of vegan publishing house Ashland Creek Press, join Mariann and Jasmin to perform the radio play Veganish: A John Yunker Play. There, we meet Jessica as she comes across her vegan idol and grapples with the reality that he may not be the dedicated vegan he claims. John also does a reading from his book (one of our favorites), The Tourist Trail, and John and Midge stay on to discuss vegan literature, how they are redefining environmental writing, and how the genre has changed over the last ten years.
Midge Raymond has more than twenty years of experience in writing, editing, and publishing. In addition to being a published fiction writer and journalist, she has worked as an editor and copywriter with several major publishing houses, including Penguin and St. Martin's. Midge has written two books for writers, Everyday Writing and Everyday Book Marketing, and is also the author of the novel My Last Continent and the award-winning short story collection, Forgetting English.
John Yunker is the author of the full-length plays Sanctuary, Paleo, Species of Least Concern, and Meat the Parents, which was a finalist in the 2014 Centre Stage New Play Festival. His novel, The Tourist Trail, began as a short story by the same name and won the Phoebe Journal 2010 Fiction Prize. Where Oceans Hide Their Dead, the sequel to The Tourist Trail, was published in February 2019.
"You can never have too many books about animals and the environment out there, especially fiction and texts that make the connection between what we eat and how we live in the world. We think that's especially important." – Midge Raymond
"Just like food feeds your body,  literature feeds your soul." – John Yunker
Interview Highlights:
What is vegan literature?
Why it's just as important to feed the soul nutritious food as the body
How Midge writes about food in her fiction in ways that remain true to her vegan convictions
The piece of writing that Midge is most proud of and how her animal rights convictions enter into what she writes
Why The Tourist Trail was a transformational book for John to write
The fascinating process of writing characters who are flawed and whether authors make decisions for characters, or whether the characters are making their decisions themselves
Midge's top tip for anyone who enjoys writing and wants to get a book out there but isn't sure where to start
How fiction allows people just starting their vegan journey to explore the often difficult first step and what a plant-based lifestyle could look like for them
Connect with John Yunker and Midge Raymond:
Connect with Our Hen House:
__________________________

This episode is brought to you in part through the generosity of A Well-Fed World. A Well-Fed World provides the means for change by empowering individuals, social justice organizations, and political decision makers to embrace the benefits of plant-based foods and farming. Learn more at awfw.org.
__________________________
You can listen to our podcast directly on our website, or subscribe on Apple Podcasts or your favorite podcatcher! Also, if you like what you hear, please rate it and leave us a comment on Apple Podcasts! Of course, we would be thrilled if you would also consider making a donation, or becoming a member of our flock (especially if you're a regular listener). Any amount is hugely appreciated, and Our Hen House is a 501(c)(3) nonprofit organization, so it's tax-deductible! Thank you for helping us create quality content, and for helping us bring you a new podcast episode each week!
Don't forget to tune into Our Hen House's other two podcasts: The Teaching Jasmin How to Cook Vegan Podcast, and The Animal Law Podcast.
The Our Hen House theme song is written and performed by Michael Harren.