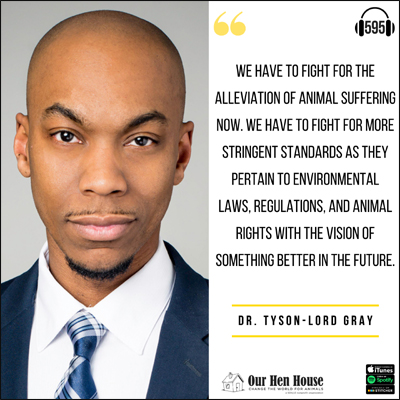 Dr. Tyson-Lord Gray joins the podcast today for a riveting conversation about the intersections of animal rights, food justice, and the environmental movement. An attorney, professor, minister, and activist, Dr. Gray discusses how these social movements are often isolated from each other and how his varied roles in ministry, law, and academia help him see these connections more clearly. He explains why animal rights can sometimes be of low priority within marginalized communities, tells us how he is actively prompting conversations about animal rights through his work as a minister, and shares how the COVID-19 pandemic has changed his approach to activism. Dr. Gray also discusses his goals as a new board member at Mercy for Animals.
Dr. Gray is a founding member and president of Green Community Vision Inc., a non-profit organization aimed at increasing environmental consciousness and environmental activism within minority communities. He is currently a Research Associate at The Baylor Collaborative on Hunger and Poverty and an Adjunct Assistant Professor at NYU Stern Business School with an interest in holding industries accountable to environmental regulations and preventing greenwashing via deceptive food labeling. Dr. Gray also serves as a minister in the National Baptist Convention U.S.A. and is a board member for Mercy for Animals and Green the Church.
"We have to fight for the now. We have to fight for the alleviation of animal suffering now. We have to fight for more stringent standards as they pertain to environmental laws, regulations, and animal rights now with the end goal and the vision of something better in the future."
– Dr. Tyson-Lord Gray
Interview Highlights:
How Dr. Gray's faith intersects with social justice, political activism, and environmental issues
Our duties to animals, regardless of individual faith, and whether attitudes toward animal rights are shifting
Dr. Gray's work at Green the Church and why they are pursuing the mission to get churches involved in environmental justice, sustainability issues, and food justice within Black communities
How he approaches working with people who are just beginning their shift toward plant-based living and why coming at veganism from a health perspective is often the first step
Dr. Gray's insight into how communities can broaden the Black Lives Matter movement to incorporate nutrition and spark conversations about animal rights
The barriers faced by Black vegans in trying to follow a plant-based lifestyle
Advice on dealing with the complicated emotions that arise when animal rights and environmental issues don't resonate with someone you love or admire
Connect with Dr. Tyson-Lord Gray:
Connect with Our Hen House:
__________________________

This episode is brought to you in part through the generosity of A Well-Fed World. A Well-Fed World provides the means for change by empowering individuals, social justice organizations, and political decision makers to embrace the benefits of plant-based foods and farming. Learn more at awfw.org.
__________________________
You can listen to our podcast directly on our website, or subscribe on Apple Podcasts or your favorite podcatcher! Also, if you like what you hear, please rate it and leave us a comment on Apple Podcasts! Of course, we would be thrilled if you would also consider making a donation, or becoming a member of our flock (especially if you're a regular listener). Any amount is hugely appreciated, and Our Hen House is a 501(c)(3) nonprofit organization, so it's tax-deductible! Thank you for helping us create quality content, and for helping us bring you a new podcast episode each week!
Don't forget to tune into Our Hen House's other two podcasts: The Teaching Jasmin How to Cook Vegan Podcast, and The Animal Law Podcast.
The Our Hen House theme song is written and performed by Michael Harren.