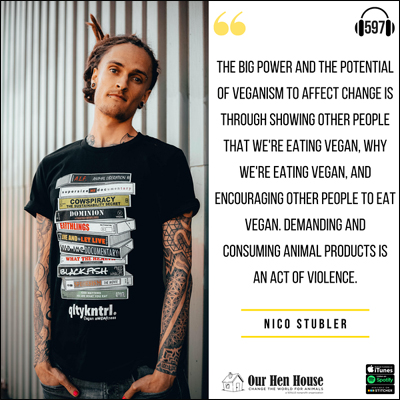 Our Hen House is excited to welcome activist and animal studies scholar nico stubler onto the podcast this week for a riveting conversation on animal rights activism. This conversation will make you think critically about different approaches to vegan activism, whether you agree with them or not. The scholar and activist shares their commitment to the Liberation Pledge—in which vegans make the commitment to never eat around individuals who are eating animal products—and tells us how receptive people have been thus far. nico also provides insight into how the pledge can be used to actively dismantle carnism, how veganism helped them connect to a Nicaraguan community while serving with the Peace Corps, and  how simply being vegan doesn't equate to active animal activism.
nico is an activist and a scholar. They completed their their M.A. in Animal Studies from New York University, and has led grassroots campaigns in Colombia, New York, and California. They focus on activism and scholarship that address animal agriculture's devastating harms with the urgency they demand, and is currently working on a forthcoming book, Ban Meat: A Pragmatic Approach for Ending Animal Ag.
"The big power and the potential of veganism to affect change is through showing other people that we're eating vegan, why we're eating vegan, and encouraging other people to eat vegan. Consuming and demanding animal products is an act of violence." – nico stubler
Interview Highlights:
Why it's so important to nico not to compromise their principles or mental health by not eating with people who are consuming animal products
The benefits and criticisms of the Liberation Pledge and why it is effective activism
What the ideology of carnism is and how we can move away from it being seen as the norm
Why society views animals as usable and abusable, and how we can stop conceptualizing animals as edible
Connect with Nico Stubler:
Connect with Our Hen House:
__________________________

This episode is brought to you in part through the generosity of A Well-Fed World. A Well-Fed World provides the means for change by empowering individuals, social justice organizations, and political decision makers to embrace the benefits of plant-based foods and farming. Learn more at awfw.org.
__________________________
You can listen to our podcast directly on our website, or subscribe on Apple Podcasts or your favorite podcatcher! Also, if you like what you hear, please rate it and leave us a comment on Apple Podcasts! Of course, we would be thrilled if you would also consider making a donation, or becoming a member of our flock (especially if you're a regular listener). Any amount is hugely appreciated, and Our Hen House is a 501(c)(3) nonprofit organization, so it's tax-deductible! Thank you for helping us create quality content, and for helping us bring you a new podcast episode each week!
Don't forget to tune into Our Hen House's other two podcasts: The Teaching Jasmin How to Cook Vegan Podcast, and The Animal Law Podcast.
The Our Hen House theme song is written and performed by Michael Harren.