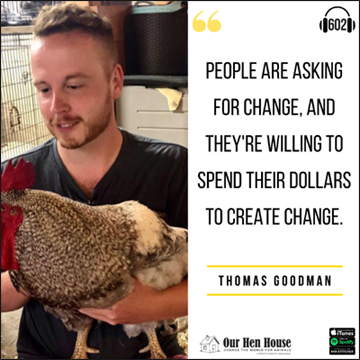 Thomas Goodman joins the podcast this week for an engaging conversation about advancing the accessibility of plant-based foods and how we can all get involved in this crucial work. Founder of the non-profit Plant Dining Partnerships (PDP), Thomas discusses how PDP provides resources to help increase vegan options in restaurants, schools, hospitals, and more. He outlines their two-pronged approach: raising awareness of the plant-based lifestyle nationally and promoting change by ensuring that consumers are offered a range of vegan food wherever they fall on the dietary spectrum. Thomas also shares how the organization builds relationships with restaurants across the country and partners with social meetup groups to build a supportive plant-based community.
Thomas Goodman, Founder and President of Plant Dining Partnerships, is a lifelong animal lover who was raised meat-free and became a professional advocate in 2014. Throughout his career, he has worked across various initiatives, including corporate outreach; federal, state, and regulatory advocacy; and the promotion of Meatless Mondays. He is committed to promoting healthy, environmentally friendly plant-based options and offer compassionate and tasty alternatives to our current mainstream food system.
"People are asking for change, and they're willing to spend their dollars to create change."
– Thomas Goodman
Highlights:
How Thomas started out as an activist and campaigner bringing plant-based options into the mainstream
Thomas' tips for how to succeed with online petitions
How to leverage technology to build relationships with big brands
How Thomas and the Plant Dining Partnerships team are promoting dietary change at a grassroots level
How they empower their volunteers to engage with local restaurants
Why Thomas likes to get to know other people involved in advocacy and build valuable relationships
How people can get involved and volunteer for Plant Dining Partnerships
Thomas' story of growing up meat-free
Connect with the Plant Dining Partnerships:
Connect with Our Hen House:
__________________________

This episode is brought to you in part through the generosity of A Well-Fed World. A Well-Fed World provides the means for change by empowering individuals, social justice organizations, and political decision makers to embrace the benefits of plant-based foods and farming. Learn more at awfw.org.
__________________________
You can listen to our podcast directly on our website, or subscribe on Apple Podcasts or your favorite podcatcher! Also, if you like what you hear, please rate it and leave us a comment on Apple Podcasts! Of course, we would be thrilled if you would also consider making a donation, or becoming a member of our flock (especially if you're a regular listener). Any amount is hugely appreciated, and Our Hen House is a 501(c)(3) nonprofit organization, so it's tax-deductible! Thank you for helping us create quality content, and for helping us bring you a new podcast episode each week!
Don't forget to tune into Our Hen House's other two podcasts: The Teaching Jasmin How to Cook Vegan Podcast, and The Animal Law Podcast.
The Our Hen House theme song is written and performed by Michael Harren.