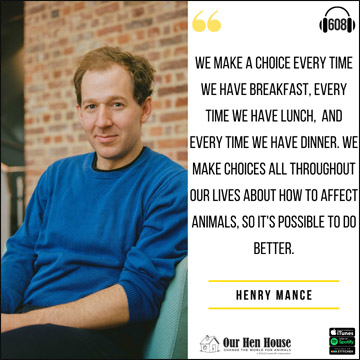 Our Hen House welcomes author Henry Mance to the podcast this week for an insightful conversation about his debut book, How to Love Animals In a Human-Shaped World. Henry tells us how his young daughters inspired him and his hopes for the impact his book will have on readers: to help them understand what it truly means to love animals and learn how we can demonstrate this in our everyday lives. He shares why he believes social media is changing the ways we treat animals, discusses how individual choices to eschew animal products make room for governments to act on a larger scale, and how zoos negatively warp children's understanding of animals.
Henry Mance is the chief features writer for the Financial Times, where he focuses on long-form pieces. He was named interviewer of the year at the 2017 British Press Awards and frequently appears on BBC radio and TV news programs. His new book is a personal journey into our evolving relationships with animals and a thought-provoking look at how those bonds are being challenged and reformed across disciplines.
"We make a choice every time we have breakfast, every time we have lunch, every time we have dinner. We make choices all throughout our lives about how to affect other animals, so it's possible to do better." – Henry Mance
Interview Highlights:
Why Henry believes that his book can inspire people to make dramatic changes in their lives
His hopes that society will progress through the cognitive dissonance that allows us to both love animals and accept abhorrent practices such as factory farming
Why it makes more political sense to seek subsidies for plant-based foods rather than seek a "meat tax"
The problem with how we shape children's views of animal rights and welfare, including meat in school meals
Why veganism is part of a positive vision for restoring much-needed forests, wetlands, and grasslands all over the world
The problems with teaching children about animals by taking them to zoos, where animals are not in their natural environment
Why he firmly believes that loving animals has become an integral part of being a good human being
Connect with Henry Mance:
Connect with Our Hen House:
Some Resources Mentioned: 
__________________________

This episode is brought to you in part through the generosity of A Well-Fed World. A Well-Fed World provides the means for change by empowering individuals, social justice organizations, and political decision makers to embrace the benefits of plant-based foods and farming. Learn more at awfw.org.
__________________________
You can listen to our podcast directly on our website, or subscribe on Apple Podcasts or your favorite podcatcher! Also, if you like what you hear, please rate it and leave us a comment on Apple Podcasts! Of course, we would be thrilled if you would also consider making a donation, or becoming a member of our flock (especially if you're a regular listener). Any amount is hugely appreciated, and Our Hen House is a 501(c)(3) nonprofit organization, so it's tax-deductible! Thank you for helping us create quality content, and for helping us bring you a new podcast episode each week!
Don't forget to tune into Our Hen House's other two podcasts: The Teaching Jasmin How to Cook Vegan Podcast, and The Animal Law Podcast.
The Our Hen House theme song is written and performed by Michael Harren.