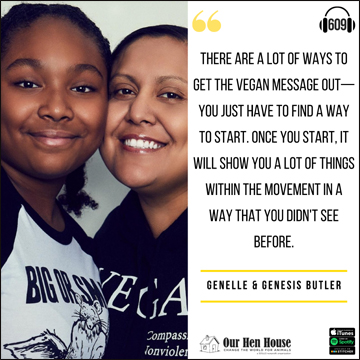 Our Hen House couldn't be more excited to welcome youth activist Genesis Butler back to the podcast, this time joined by her powerhouse mom, Genelle Butler! In this awe-inspiring conversation, Genesis and Genelle share how the cruel reality behind chicken nuggets encouraged the 14-year old activist to stop eating meat at only three years of age. Genelle also shares how her daughter's curiosity about breastfeeding and cow's milk ultimately encouraged Genesis and her family to go vegan. A passionate animal rights activist, Genesis shares why she founded Genesis for Animals and Youth Climate Save, and Genelle tells us the importance of honoring kids' questions and their innate desire to do good.
Genesis Butler is the founder of Genesis for Animals, a non-profit organization aiming to provide funding to sanctuaries and rescues who give animals a permanent home, and the youth environmental charity, Youth Climate Save. One of the youngest people ever to give a TEDx Talk, Genesis is an ethical vegan who has traveled the world advocating for animals and encouraging people to eat plant-based for animals and the planet.
Genelle Butler is an activist, organizer, and mother of five vegan children. She went vegan after Genesis convinced her it was the right thing to do for the animals. Genelle is the co-director of Youth Climate Save, alongside Genesis. In addition, she is also a coordinator for the Animal Save Movement.
"There are a lot of ways to get the message out—you just have to find a way to start. Once you start, it will show you a lot of things in a way that you didn't see them before." – Genesis Butler
Interview Highlights:
What Genesis thinks about the portrayal of animals on TV programing for kids
Why Genelle always knew that Genesis would be a leader, even when she was a baby
Why Genesis was inspired to become vegan and why the whole family followed her lead
Genelle's commitment to emboldening her daughter to be an ambassador for animals
How Genesis sees the disconnect between concern about the climate and consuming animal products
Ways listeners can work with their communities to make changes in their lives to benefit animals
What Genelle has done to help Genesis realize her goals
How other kids react to Genesis' animal advocacy
How Genesis got to be a Marvel superhero AND meet the Pope
Genesis' collaboration with Million Dollar Vegan
Connect with Genesis and Genelle Butler:
Connect with Our Hen House:
Resources: 
__________________________

This episode is brought to you in part through the generosity of A Well-Fed World. A Well-Fed World provides the means for change by empowering individuals, social justice organizations, and political decision makers to embrace the benefits of plant-based foods and farming. Learn more at awfw.org.
__________________________
You can listen to our podcast directly on our website, or subscribe on Apple Podcasts or your favorite podcatcher! Also, if you like what you hear, please rate it and leave us a comment on Apple Podcasts! Of course, we would be thrilled if you would also consider making a donation, or becoming a member of our flock (especially if you're a regular listener). Any amount is hugely appreciated, and Our Hen House is a 501(c)(3) nonprofit organization, so it's tax-deductible! Thank you for helping us create quality content, and for helping us bring you a new podcast episode each week!
Don't forget to tune into Our Hen House's other two podcasts: The Teaching Jasmin How to Cook Vegan Podcast, and The Animal Law Podcast.
The Our Hen House theme song is written and performed by Michael Harren.