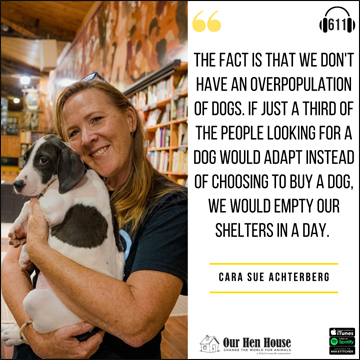 Cara Achterberg joins the podcast this week for an important conversation about the many dogs currently in animal rescues and shelters waiting for a home that may never come. Author of 2020's One Hundred Dogs and Counting: One Woman, A Thousand Miles, and a Journey into the Heart of Shelters and Rescues, Cara shares how she gradually came to the realization that shelters will never have enough money or space to care for all the dogs in need. She dives into the reasons so many have the mistaken belief that we have fixed the homeless dog problem and why she set out to educate herself about the real story behind the headlines. Cara also discusses why she has focused her interest on dog pounds in the rural south, why so many abandoned dogs are still being killed, and how fostering is absolutely crucial to saving dogs and how people interested in fostering can dip in their toes.
Cara and her family have fostered nearly 150 dogs and puppies, plus two kittens, for Operation Paws for Homes, an all-breed rescue made up of a network of foster homes in Maryland, Washington, DC, Virginia, and south-central Pennsylvania. She is an author, blogger, and creative writing teacher who is passionate not just about saving dogs, but about organic gardening, writing fiction, and the mountains of Virginia. A successful novelist, Cara has written two non-fiction books about her experience fostering rescue animals and working with shelters all over the southern United States: Another Good Dog: One Family and Fifty Foster Dogs, and One Hundred Dogs and Counting: One Woman, A Thousand Miles, and a Journey into the Heart of Shelters and Rescues.
 "The bare fact is that we don't have an overpopulation of dogs. If just one third of all the people who are currently looking for a dog chose to adopt, we would empty our shelters in a day." – Cara Achterberg
Highlights:
How Cara and her family became involved with Operation Paws for Homes
Why Cara's mission is to tell people what is still going on in shelters and rescues across the southern states, and elsewhere in the United States
Why many dog pounds don't even attempt to arrange adoptions, their policies primarily consisting of shipping dogs to other places where hopefully they can be saved, or simply killing them
The reasons people are ignorant about and therefore reluctant to adopt dogs they consider to be pit bulls
How to encourage dog owners to spay and neuter
How to change people's attitudes so they see that dogs have intrinsic value
Why shelters are overwhelmed with dogs even after the phenomenon of the 'lockdown dog' when so many families decided it was the right time to get a companion animal
Why people are negative about moving dogs from the rural south to localities that still have their own homeless dog populations, or bringing in dogs to adopt from abroad, and how Cara feels about the issue
The problems of statistics and shelters, what shelters mean when they talk about their live release rates, and whether we're really getting accurate information
Why Cara believes the North Carolina model requiring accurate statistics is a step in the right direction
How a small, rural shelter turned its fortunes around by becoming a community resource
Connect with Cara Achterberg:
Connect with Our Hen House:
__________________________

This episode is brought to you in part through the generosity of A Well-Fed World. A Well-Fed World provides the means for change by empowering individuals, social justice organizations, and political decision makers to embrace the benefits of plant-based foods and farming. Learn more at awfw.org.
__________________________
You can listen to our podcast directly on our website, or subscribe on Apple Podcasts or your favorite podcatcher! Also, if you like what you hear, please rate it and leave us a comment on Apple Podcasts! Of course, we would be thrilled if you would also consider making a donation, or becoming a member of our flock (especially if you're a regular listener). Any amount is hugely appreciated, and Our Hen House is a 501(c)(3) nonprofit organization, so it's tax-deductible! Thank you for helping us create quality content, and for helping us bring you a new podcast episode each week!
Don't forget to tune into Our Hen House's other two podcasts: The Teaching Jasmin How to Cook Vegan Podcast, and The Animal Law Podcast.
The Our Hen House theme song is written and performed by Michael Harren.