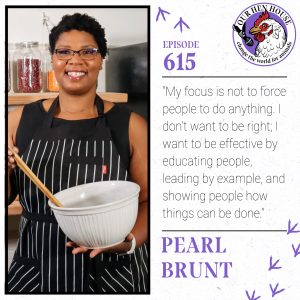 Our Hen House is excited to welcome plant-based food advocate and political candidate Pearl Brunt to the podcast this week. Pearl is running for a seat on the Town Council in Pittsford, NY. She joins Mariann to discuss how her political aspirations intersect with her love of promoting healthy, ethical food choices and introducing people to plant-based foods. A firm believer in the power of the dollar, Pearl explains how we send businesses a strong message when we choose to purchase food that is good for us. She also shares how she started Le Twisted Spoon, a community of plant-based foodies and advocates, and how the passion project evolved from the simple desire to feed her family healthy meals.
Pearl Brunt wears many hats: she is a US Business Liaison/Foreign Relations Consultant, a home educator, public speaker, and a passionate plant-based food advocate. She is currently running for Pittsford Town Council on a plant-based platform and is endorsed by the Democratic Party and Working Families Party. Pearl has hosted a series of innovative conversations engaging her community in discussions on zoning, community solar plans, and community composting. She is the organizer of the nationally recognized Pittsford Community Celebrates Juneteenth.
"I genuinely believe that once you start thinking about the choices you're making in one area of your life, it opens the door to start thinking about other things you can do. Education is always a great place to start—educating people as to the damage and the harm that can come from these unsustainable practices and farming."
– Pearl Brunt

Highlights:
Why it's difficult to talk about real sustainability and change without addressing the things that people can do on a daily basis
Why it's so important to support sustainable agriculture
How food, environmental issues, pesticides, and promoting organic gardens are interrelated and how Pearl, as a town board member, could inspire people to include them in their lifestyle
Why diversity and inclusion should be about culture, not just demographics, and how that relates to what we eat
Why living in other countries gave Pearl the opportunity to see issues in the US from the outside and the two main lessons she learned from living abroad
Why Black veganism has taken off, and why the Black community is at the forefront of promoting a healthy food system
Pearl's passion project, Twisted Spoon, and how she has developed it to inspire others
Why Pearl views plant-based eating as a gateway drug that led her family to grow some of their own food, try to become zero waste, and genuinely consider what they can do on a personal level and on a daily basis to make a difference in the world
Connect with Pearl Brunt:
Connect with Our Hen House:
__________________________

This episode is brought to you in part through the generosity of A Well-Fed World. A Well-Fed World provides the means for change by empowering individuals, social justice organizations, and political decision makers to embrace the benefits of plant-based foods and farming. Learn more at awfw.org.
__________________________
You can listen to our podcast directly on our website, or subscribe on Apple Podcasts or your favorite podcatcher! Also, if you like what you hear, please rate it and leave us a comment on Apple Podcasts! Of course, we would be thrilled if you would also consider making a donation, or becoming a member of our flock (especially if you're a regular listener). Any amount is hugely appreciated, and Our Hen House is a 501(c)(3) nonprofit organization, so it's tax-deductible! Thank you for helping us create quality content, and for helping us bring you a new podcast episode each week!
Don't forget to tune into Our Hen House's other two podcasts: The Teaching Jasmin How to Cook Vegan Podcast, and The Animal Law Podcast.
The Our Hen House theme song is written and performed by Michael Harren.