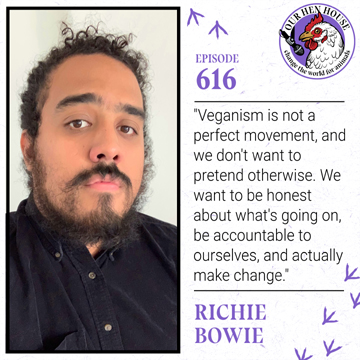 Our Hen House welcomes Richie Bowie, Senior Editor of VegNews Magazine, for an engaging, critical conversation about what vegan media is and what it needs to be in order to change the world. Richie joins Jasmin to discuss how the misperception that veganism is a white movement has withstood the test of time despite the higher percentage of Black Americans identifying as vegan or vegetarian than the rest of the US population. Richie also shares how the world's leading plant-based magazine is challenging this false idea, including how it is  promoting the values of the Black Lives Matter movement within vegan communities. But that's not all! On the lighter side, Richie gives us a behind-the-scenes look into his day-to-day role at VegNews and shares some not-to-be-missed inside tips on the recent food trends he's especially excited about.
Richie Bowie is the Senior Editor of VegNews, the largest vegan media brand in the world. His passions for plant-based living, storytelling, photography, editing, and design mean that Richie has found his perfect fit managing VegNews Magazine. A full-blown lover of food media, you can usually spot this Southern California native at vegan restaurants and pop-ups standing on chairs and borrowing other people's drinks to compose the perfect Instagram shot. Richie reports that the vegan dish he would cook to dazzle a veg-curious but still carnivorous friend would be Beyond Meat tostadas with cabbage and cashew sour cream.
"Veganism is not a perfect movement, and we don't want to pretend otherwise. We want to be honest about what's going on, be accountable to ourselves, and actually make change." – Richie Bowie
Highlights:
How Richie progressed from intern to Senior Editor at VegNews in just six years
How VegNews incorporates the impact of the Black Lives Matter movement
How COVID-19 impacted vegan media
The importance of incorporating diverse perspectives
Why it is important to Richie to cover deep societal issues within VegNews
How Richie and his team deal with the backlash over controversial topics they cover
Vegan taste testing
Exactly how much Richie loves the food-focused part of his job
Whether there is still a place for print media
How Richie's path towards veganism began with self-introspection and reflection into his internalized prejudices
Why Richie sees overlap between identifying as LGBTQ and identifying as vegan
The times when Richie has felt the need to step away from activism and what made it feel safe to come back
What people can expect from future issues of VegNews Magazine
Connect with Richie Bowie:
Connect with Graphic Designer, Weronika Kolinska:
Connect with Our Hen House:
__________________________
Thank you for listening to the Our Hen House podcast! We just kicked off our end-of-year matching campaign, meaning that between now and December 31, your donations will be TRIPLED, dollar-for-dollar, up to $20,000! That means with your donation—plus our Barnyard Benefactors and an added boost from an anonymous donor—we are hoping to raise $60k total.
We can't do it without you! The only way we'll receive the matching funds is if we successfully reach our goal of raising $20k from our loyal supporters by the end of the year.  So, if you like Our Hen House, if you believe in our mission to effectively mainstream the movement to end the exploitation of animals, if you find community and solace in our shows and resources, and if you believe in the change-making power of indie media, please make a donation today.
__________________________

This episode is brought to you in part through the generosity of A Well-Fed World. A Well-Fed World provides the means for change by empowering individuals, social justice organizations, and political decision makers to embrace the benefits of plant-based foods and farming. Learn more at awfw.org.
__________________________
You can listen to our podcast directly on our website, or subscribe on Apple Podcasts or your favorite podcatcher! Also, if you like what you hear, please rate it and leave us a comment on Apple Podcasts! Of course, we would be thrilled if you would also consider making a donation, or becoming a member of our flock (especially if you're a regular listener). Any amount is hugely appreciated, and Our Hen House is a 501(c)(3) nonprofit organization, so it's tax-deductible! Thank you for helping us create quality content, and for helping us bring you a new podcast episode each week!
Don't forget to tune into Our Hen House's other two podcasts: The Teaching Jasmin How to Cook Vegan Podcast, and The Animal Law Podcast.
The Our Hen House theme song is written and performed by Michael Harren.