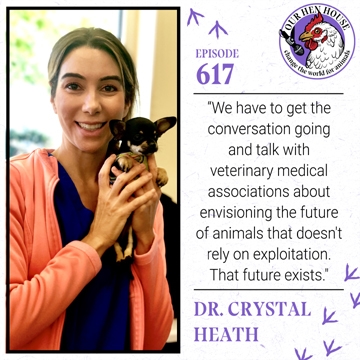 The extraordinary Crystal Heath, DVM, joins the podcast this week for a desperately needed conversation about the veterinary profession and the alarming attitude of so many of its members toward animal rights. Dr. Heath, who is a vegan animal rights activist herself, shares shocking truths about the influence the animal agriculture industry holds over veterinary schools across the country. In fact, the very industry killing billions of farmed animals is shaping the vets of tomorrow. Dr. Heath also tells us about Our Honor, the organization she founded to provide support for veterinarians who want to buck the system, and shares her incredible activist efforts, including how she's helping veterinary students advocate for more humane medical practices, how she's empowering other vegan veterinarians, how she's challenging the American Veterinary Medical Association (AVMA), and how she and other veterinarians are fighting to stop the hideously cruel practice of ventilation shutdown.
Dr. Crystal Heath is a resident of Berkeley, California, and a graduate of UC Davis School of Veterinary Medicine. She currently works in shelter medicine and high-quality, high-volume spay-neuter. She has a lifelong love of animals and enjoys volunteering in rural communities and providing veterinary services to needy populations. Dr. Heath is on the founding committee of Veterinarians Against Ventilation Shutdown, urging the AVMA to re-classify ventilation shutdown as a "not recommended" depopulation method. She is also the founder of Vet Harmony, a veterinary practice providing accessible care and educating the public, and Our Honor, an organization empowering animal professionals who want to speak their conscience and create more ethical systems within the field.
"We have to get the conversation going and talk with veterinary medical associations about envisioning the future of animals that doesn't rely on exploitation. That future exists." – Dr. Crystal Heath
 Interview Highlights:
Why certain veterinary schools continue to kill healthy animals to practice surgical techniques and how students are working tirelessly to bring that practice to an end
The prevalence of imposter syndrome in veterinary school and how it harms animals
How future veterinarians can learn everything they need to know without harming animals
Why Dr. Heath believes that ventilation shutdown could be a turning point in opening veterinarians' eyes to what is going on in the animal agriculture industry
Why veterinarians and the AVMA need to help build connections to animal rights groups to create a future for animals where fewer animals are hurt
Why the future involves investing our money in plant-based alternatives rather than pouring funds into slaughterhouses
How advocates can connect with veterinarians for expert guidance and advice
Connect with Crystal Heath:
Connect with Our Hen House:
__________________________
Thank you for listening to the Our Hen House podcast! Last weekend kicked off our end-of-year matching campaign, meaning that between now and December 31, your donations will be TRIPLED, dollar-for-dollar, up to $20,000! That means with your donation—plus our Barnyard Benefactors and an added boost from an anonymous donor—we are hoping to raise $60k total.
We can't do it without you! The only way we'll receive the matching funds is if we successfully reach our goal of raising $20k from our loyal supporters by the end of the year.  Any amount is hugely appreciated, and Our Hen House is a  nonprofit organization, so it's tax-deductible! If you're a regular listener and would like to connect with us more personally, we invite you to join our flock for $10/month or $100/year.
So, if you enjoy our podcasts, if you believe in our mission to effectively mainstream the movement to end the exploitation of animals, if you find community and solace in our shows and resources, and if you believe in the change-making power of indie media, please make a donation today.
__________________________
This episode is brought to you in part through the generosity of A Well-Fed World. A Well-Fed World provides the means for change by empowering individuals, social justice organizations, and political decision makers to embrace the benefits of plant-based foods and farming. Learn more at awfw.org.
__________________________
You can listen to our podcast directly on our website, or subscribe on Apple Podcasts or your favorite podcatcher! Also, if you like what you hear, please rate it and leave us a comment on Apple Podcasts!
Don't forget to tune into Our Hen House's other two podcasts: The Teaching Jasmin How to Cook Vegan Podcast, and The Animal Law Podcast.
The Our Hen House theme song is written and performed by Michael Harren.