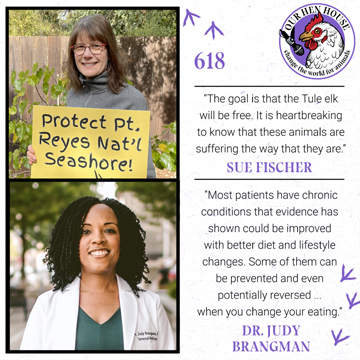 This week, Our Hen House is excited to welcome two amazing guests to the show, each an inspirational example of what is happening at the grassroots of the vegan movement! Our first guest, animal rights activist (and flock member!) Sue Fischer joins us to discuss the damage cattle ranchers and dairy farmers are inflicting on the land and wildlife of California's Point Reyes National Seashore. She explains why politicians don't seem to be paying attention to local residents and animal advocates who are questioning the practice. Sue also describes the collaboration between activists, private citizens, biologists, photographers, conservationists, and others who share the common cause of saving the National Seashore and saving all of its inhabitants, including the iconic and rare Tule Elk.
Related to the campaign, Our Hen House is also honored to share a very moving song written by talented musician (and also flock member!) Charity Kahn and her band The Invisible Bee. The Tule Elk Song supports the movement to save the indigenous elk in Point Reyes National Park from the threat of starvation and murder as a result of the private ranching industry's stronghold on our public lands. 
Vegan since 2012, Sue Fischer has worked as a registered dietitian for about 15 years. Her previous advocacy had predominantly been related to food—encouraging people to eat more plants and less (preferably no) animals. It was the fall of 2018 when Sue viewed the documentary, The Shame of Point Reyes. Her discovery left her feeling incredibly sad for the suffering elk and cows, launching her activism in this area. Her current work brings together many of the most critical issues we currently face when advocating for wildlife impacted by climate change, the harms of animal agriculture, and the importance of our national park system.
Our second guest on today's show, Dr. Judy Brangman, is a board-certified internal medicine and lifestyle medicine physician. An advocate for whole food plant-based diets, Dr. Judy is affectionately known as "The Plant Based MD." She joins us to share her extensive knowledge of plant-based nutrition and gives us the inside scoop into the medical profession. She describes about how she became involved in promoting the plant-based lifestyle (both virtually and in person), the goals of her practice, and her experience with COVID-19. Dr. Judy also shares how making small changes towards changing your diet can have a significant impact on your health.
As the founder and owner of Newell Health, a lifestyle medicine company, Dr. Judy Brangman helps individuals make effective lifestyle changes that can prevent and reverse chronic diseases. She is mindful of medication interactions and aims to help her patients minimize their medication dependence as much as possible. A native of Bermuda, Dr. Judy obtained her Doctor of Medicine degree from Wake Forest School of Medicine and completed her Internal Medicine residency at East Carolina University/Vidant Hospital. It was during residency when she saw the devastating consequences that poor health can have from a physical, emotional, financial, and spiritual standpoint, that she began to search for ways to prevent chronic diseases. It was then that she first learned about plant-based nutrition. Since then Dr. Judy has gone on to obtain a Certificate in Plant Based Nutrition from the T. Colin Campbell Center for Nutrition Studies.
 "The goal is that hopefully sooner than later, the Tule elk will be free because it is heartbreaking to know that these animals are suffering the way that they are." – Sue Fischer
"Most patients have chronic conditions that evidence has shown could be improved with better diet and lifestyle changes. Some of them can be prevented and even potentially reversed … when you change your eating." – Dr. Judy Brangman
Highlights:
The history of the persecution of the Tule elk in California
Why bringing the attention of animal agriculture issues to major media markets is so critical
How the Tule elk demonstrate the interconnectedness of the exploitation of farmed animals and the devastation of wild animals.
The environmental and welfare impact on the Tule elk of fencing them in
Why the Tule elk are a political issue, and what the current administration is doing (or not doing) to support their interests
Why even winning a lawsuit to remove ranching from the national park hasn't had any effect
Judy's advice on the best way for a doctor to incorporate advice on diet into their practice
Why physicians have so little training on diet and nutrition
A sneak peek into Dr. Judy's new plant-based eating course
Spreading the word on the vegan diet and how to introduce the idea to your community and social circle
Judy's personal experience of COVID-19 how it changed her approach with her patients
Medication dependency and how it interacts with diet
How your skin can serve as an essential barometer for knowing whether what you're eating is serving you or not
Resources:
Connect with Our Guests:
Connect with Our Hen House:
__________________________
Thank you for listening to the Our Hen House podcast! Last weekend kicked off our end-of-year matching campaign, meaning that between now and December 31, your donations will be TRIPLED, dollar-for-dollar, up to $20,000! That means with your donation—plus our Barnyard Benefactors and an added boost from an anonymous donor—we are hoping to raise $60k total.
We can't do it without you! The only way we'll receive the matching funds is if we successfully reach our goal of raising $20k from our loyal supporters by the end of the year.  Any amount is hugely appreciated, and Our Hen House is a  nonprofit organization, so it's tax-deductible! If you're a regular listener and would like to connect with us more personally, we invite you to join our flock for $10/month or $100/year.
So, if you enjoy our podcasts, if you believe in our mission to effectively mainstream the movement to end the exploitation of animals, if you find community and solace in our shows and resources, and if you believe in the change-making power of indie media, please make a donation today.
__________________________
This episode is brought to you in part through the generosity of A Well-Fed World. A Well-Fed World provides the means for change by empowering individuals, social justice organizations, and political decision makers to embrace the benefits of plant-based foods and farming. Learn more at awfw.org.
__________________________
You can listen to our podcast directly on our website, or subscribe on Apple Podcasts or your favorite podcatcher! Also, if you like what you hear, please rate it and leave us a comment on Apple Podcasts!
Don't forget to tune into Our Hen House's other two podcasts: The Teaching Jasmin How to Cook Vegan Podcast, and The Animal Law Podcast.
The Our Hen House theme song is written and performed by Michael Harren.