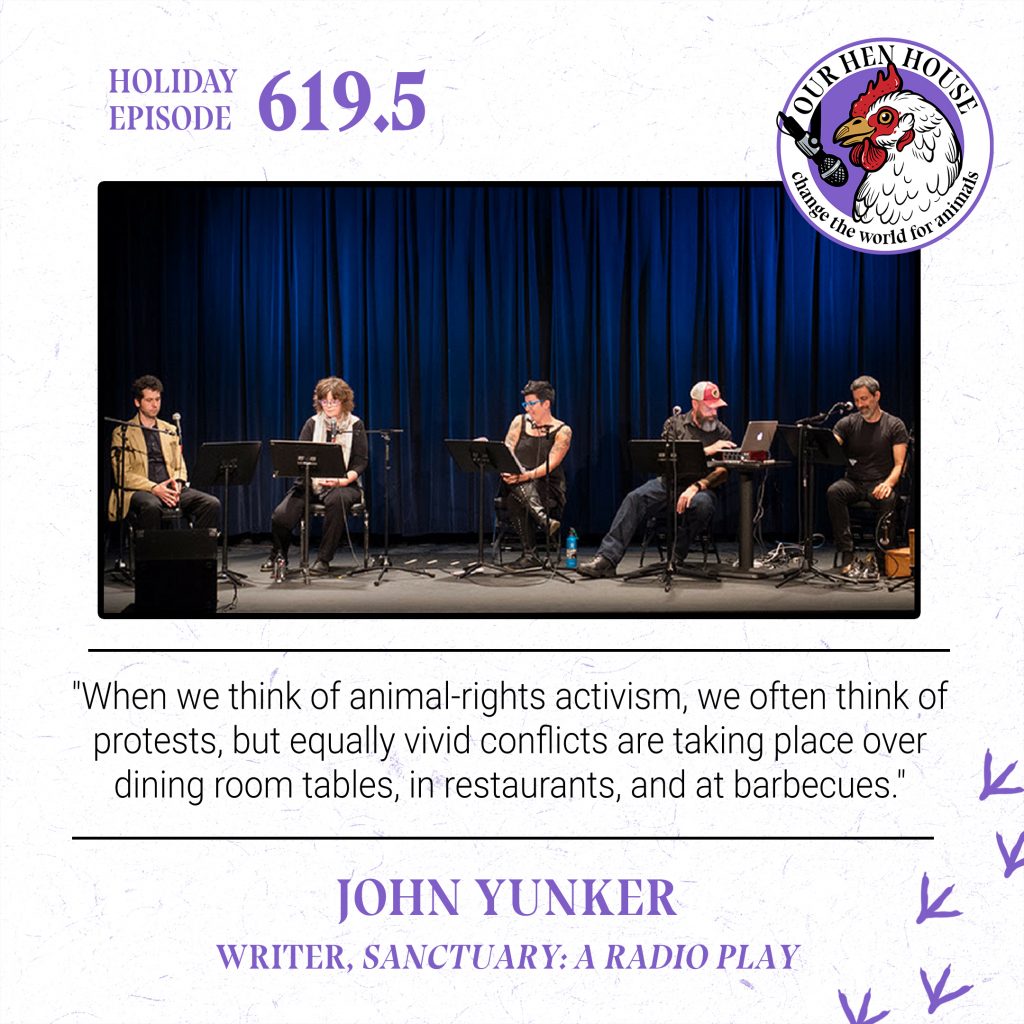 Welcome to this very special holiday episode in which we present Sanctuary: A Radio Play, an annual Thanksgiving tradition at Our Hen House! This special performance marks the world premiere of John Yunker's Sanctuary at New York City's Symphony Space during the Culture & Animals Foundation's Compassion Arts Festival. We were thrilled to have been a part of this witty, engaging, and incisive production that portrays the different journeys we embark on when we begin to learn about animal exploitation. Here at Our Hen House, we are longtime proponents of theater as a tool for vegan advocacy; the medium serves as a lens into human behavior and allows the audience to safely explore their feelings around animal equality and why they choose to eat animals.
A dark comedy, Sanctuary tells the story of Richard (John Frusciante) and Lisa (Mariann Sullivan), a happily married couple whose blissful retirement to small-town Oregon is thrown into disarray when Lisa suddenly decides to go vegan and insists on celebrating Thanksgiving without a turkey AND alongside her new friend and animal activist, Meg (Jasmin Singer). Husband Richard invites his unsuspecting buddy Charley (Michael Harren), who also happens to be the local exterminator, in the hopes of forcing Lisa to stick with the traditional meal. The resulting tensions soon push relationships over the edge. Sanctuary tells the story behind the struggles and joys of navigating vegan ethics around loved ones who don't quite understand. (Sound effects are by Emmy winner Eric Milano.)
"When we think of animal-rights activism, we often think of protests. But equally vivid conflicts are taking place over dining room tables and in restaurants and at barbecues." – John Yunker
Connect with Our Hen House:
__________________________
Thank you for listening to the Our Hen House podcast! We invite you to join our end-of-year matching campaign where your donations will be TRIPLED, dollar-for-dollar, up to $20,000, between now and December 31! That means with your donation—plus our Barnyard Benefactors and an added boost from an anonymous donor—we are hoping to raise $60k total.
We can't do it without you! The only way we'll receive the matching funds is if we successfully reach our goal of raising $20k from our loyal supporters by the end of the year.  Any amount is hugely appreciated, and Our Hen House is a  nonprofit organization, so it's tax-deductible! If you're a regular listener and would like to connect with us more personally, we invite you to join our flock for $10/month or $100/year.
So, if you enjoy our podcasts, if you believe in our mission to effectively mainstream the movement to end the exploitation of animals, if you find community and solace in our shows and resources, and if you believe in the change-making power of indie media, please make a donation today.
__________________________
This episode is brought to you in part through the generosity of A Well-Fed World. A Well-Fed World provides the means for change by empowering individuals, social justice organizations, and political decision makers to embrace the benefits of plant-based foods and farming. Learn more at awfw.org.
__________________________
You can listen to our podcast directly on our website, or subscribe on Apple Podcasts or your favorite podcatcher! Also, if you like what you hear, please rate it and leave us a comment on Apple Podcasts!
Don't forget to check out Our Hen House's other podcasts: The Animal Law Podcast, The Teaching Jasmin How to Cook Vegan Podcast, and the Antiracism in Animal Advocacy Audio Series.
The Our Hen House theme song is written and performed by Michael Harren.