Keegan Kuhn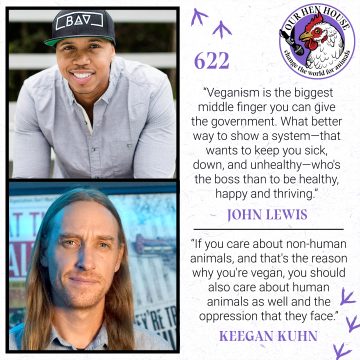 and John Lewis, the remarkable filmmakers behind the new documentary, They're Trying to Kill Us, join the podcast this week for a critical conversation about the deadly effects of the meat-centric standard American diet, how it impacts Black communities with particular harshness, and how hip-hop artists are a crucial part of the movement to save Black lives through diet change. In our discussion of the film, which is executive produced by vegan NBA player Chris Paul and vegan Grammy Award-winner Billie Eilish, Keegan and John share why they see hip-hop as such an important tool for the empowerment and survival of Black communities and why artists of the genre—such as Mýa, Ne-Yo, Styles P., and Mathematics from the Wu-Tang Clan (all featured in the film)—are so passionate about the need to change what people eat.  We talk about intentionality, whether there's an effort to destroy Black communities through a lack of nutritional education, and, regardless of intent, that the obvious bottom line is that profits consistently are considered more important than people. We also discuss the questions that arise regarding communicating the facts of animal abuse when a film centers primarily on the health impacts of an animal-centered diet.
Keegan Kuhn is the award-winning co-director of the highly acclaimed documentary film Cowspiracy: The Sustainability Secret, which was executive produced for Netflix by Leonardo DiCaprio, What The Health, executive produced by Joaquin Phoenix, and Running For Good: The Fiona Oakes Documentary, executive produced by James Cromwell. He is also the owner and operator of First Spark Media, a digital film production company tailored to creating films for social justice. Fitness expert John Lewis has spent over two decades in the health industry and played Division I college basketball. His education in business coupled with his love for health and fitness gave him the ability to start his venture – Bad Ass Vegan – a health and nutrition company that strives to educate individuals on plant based nutrition.  Together, John and Keegan have teamed up to create They're Trying to Kill Us, which seeks answers to why Americans of color suffer from disproportionately higher rates of chronic disease and explores the links between food, disease, race, poverty, and institutional racism.
"Veganism is the biggest middle finger you can give the government. What better way to show a system—that wants to keep you sick, down, and unhealthy—who's the boss than to be healthy, happy and thriving." – John Lewis
"Veganism is social justice, and social justice is veganism. I think we have to see that all forms of oppression are connected. If you care about non-human animals, and that's the reason why you're vegan, you should also care about human animals as well and the oppression that they face." – Keegan Kuhn
Highlights for Episode 622:
Why the influence of hip-hop as a way to spread the vegan message intrigued John and made him believe that it could be an important tool to reach people

Why some of the artists featured in the film became vegans after filming

The hip-hop artists in the movie, including M

ý

a, Neo, Styles P., and Mathematics from the Wu-Tang Clang

Why systemic racism and political issues that are explored within hip-hop are the centerpiece of the film and how veganism connects to them

Why it is important that white people should go vegan to undermine racism, and why it's a tough connection for a lot of people to make

Why John was inspired to engage in activism and why he decided that this was going to be the way he was going to change the world

How John's mother's illness has made him feel about the repercussions of the lack of nutritional information and healthy food available in Black communities

Why John and Keegan have both dedicated themselves to putting information out there and helping people reach their own solutions

Why they talk only tangentially about the conditions of animals in the documentary
Follow the film:
Connect with John Lewis:
Connect with Keegan:
Connect with Our Hen House:
__________________________
Thank you for listening to the Our Hen House podcast! We invite you to join our end-of-year matching campaign where your donations will be TRIPLED, dollar-for-dollar, up to $20,000, between now and December 31! That means with your donation—plus our Barnyard Benefactors and an added boost from an anonymous donor—we are hoping to raise $60k total.
We can't do it without you! The only way we'll receive the matching funds is if we successfully reach our goal of raising $20k from our loyal supporters by the end of the year.  Any amount is hugely appreciated, and Our Hen House is a  nonprofit organization, so it's tax-deductible! If you're a regular listener and would like to connect with us more personally, we invite you to join our flock for $10/month or $100/year.
So, if you enjoy our podcasts, if you believe in our mission to effectively mainstream the movement to end the exploitation of animals, if you find community and solace in our shows and resources, and if you believe in the change-making power of indie media, please make a donation today.
__________________________
This episode is brought to you in part through the generosity of A Well-Fed World. A Well-Fed World provides the means for change by empowering individuals, social justice organizations, and political decision makers to embrace the benefits of plant-based foods and farming. Learn more at awfw.org.
__________________________
You can listen to our podcast directly on our website, or subscribe on Apple Podcasts or your favorite podcatcher! Also, if you like what you hear, please rate it and leave us a comment on Apple Podcasts!
Don't forget to check out Our Hen House's other podcasts: The Animal Law Podcast, The Teaching Jasmin How to Cook Vegan Podcast, and the Antiracism in Animal Advocacy Audio Series.
The Our Hen House theme song is written and performed by Michael Harren.