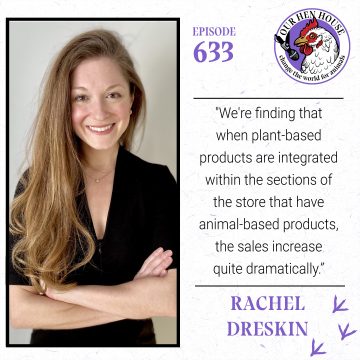 Rachel Dreskin, CEO of the Plant Based Foods Association (PBFA), joins the podcast this week to discuss why it is so vital for vegan foods to have a trade association. Rachel tells us how the organization, which advocates at both the  federal and state levels, is working to even the playing field to help plant-based brands compete against animal-based products and succeed. In this behind-the-scenes look, Rachel also breaks down the way products in a supermarket are organized, and she explains whether it's best for plant-based foods to be allocated their own section or for them to be integrated alongside their animal-based counterparts. She also dives into the thorny issues of labeling, including why the term "plant-based" has become muddied, and how we can ensure people are fully aware of what they are purchasing. 
Rachel Dreskin is the CEO of the Plant Based Foods Association, the first and only trade association representing the nation's leading plant-based food companies, as well as the CEO of the Plant Based Foods Institute, PBFA's sister nonprofit dedicated to driving transformation to a plant-based food system. She also serves as a board member of the Regenerative Organic Alliance, has guest lectured at top US universities like Stanford and New York University, and has been featured in Bloomberg, Fortune Magazine, and the Chicago Tribune. 
"We're finding that when products are integrated within the sections of the store that have animal-based products, the sales increase quite dramatically." – Rachel Dreskin
Highlights for Episode 633: 
The types of companies that have joined PBFA
How and why PBFA represents the interests of completely plant-based food brands, but

also

accept companies as members who have animal products in their portfolio
Rachel's thoughts on the elements that separate a successful company in the plant-based arena from one that doesn't make it

 

"Vegan" versus "plant-based" terminology and why PBFA uses the term "plant-based"

 

Major drivers leading people to purchase plant-based foods
Why PBFA is planning lifecycle assessments across the plant-based and animal-based categories so they can demonstrate the environmental benefits

 

Whether subsidies play a part in keeping plant-based foods from competing fairly
What PBFA believes it would take to transition farmers away from growing crops destined for animal feed and toward growing crops consumed directly by humans
How plant-based milk has made so much progress and Rachels's thoughts on how it will move even further forward

 

​​And lastly … how they're going to get Starbucks to drop the up-charge for plant based milk
Connect with Rachel Dreskin:
Connect with Our Hen House:
_____________________________________________
Thank you for listening to the Our Hen House podcast! If you enjoy our podcasts, believe in our mission to effectively mainstream the movement to end the exploitation of animals, find community and solace in our shows and resources, and would like to show your support for vegan indie media, please make a donation today.
You can listen to our podcast directly on our website, or subscribe on Apple Podcasts or your favorite podcatcher! Also, if you like what you hear, please rate it and leave us a comment on Apple Podcasts!
Don't forget to check out Our Hen House's other podcasts: The Animal Law Podcast, The Teaching Jasmin How to Cook Vegan Podcast, and the Antiracism in Animal Advocacy Audio Series.
The Our Hen House theme song is written and performed by Michael Harren.
__________________________
This episode is brought to you in part through the generosity of A Well-Fed World. A Well-Fed World provides the means for change by empowering individuals, social justice organizations, and political decision makers to embrace the benefits of plant-based foods and farming. Learn more at awfw.org.