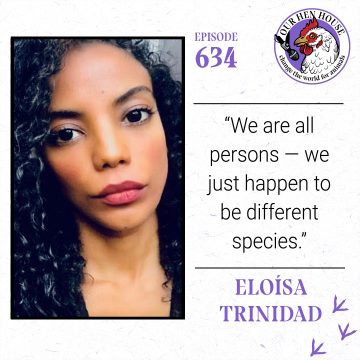 According to powerhouse activist and community organizer Eloísa Trinidad, an anti-colonial framework is fundamental to how she approaches activism. Eloísa, who serves as Executive Director  of both the Vegan Activist Alliance and the food justice organization Chilis on Wheels New York, is a total liberation activist. She is unapologetically adamant that species does not define personhood and emphasizes the importance of the language we use in our narratives as activists. In our conversation, we also dive into Eloísa's work with Chilis on Wheels, where she helps provide plant-based groceries to students and families experiencing food poverty in New York. She also tells us about the Overthrow Vegan Community Fridge, New York City's first plant-based community fridge, which Eloísa helped launch last year, alongside fellow activists. Plus, she shares why she believes true change always stems from genuine connection. 
Eloísa Trinidad is a total liberation activist who approaches liberation praxis and veganism with an anti-colonial framework to raise awareness of how Western colonization has affected and continues to affect the plight of human and beyond-human persons (animals), and how it has changed the food system and our relationship with each other and to the natural world. Through her role as Executive Director at Chilis on Wheels New York, Eloísa focuses on making veganism accessible to communities in need. She is also co-founder and Executive Director at Vegan Activist Alliance, a systems change focused, community-driven anti-speciesist organization. Eloísa sits on the Board of Directors at Plant Powered Metro NY, is NY Chapter President at Hip Hop is Green, and is on the following Advisory Boards:  Center For Science in the Public Interest,  Agriculture Fairness Alliance, The Vegan Museum.
"We are all persons — we just happen to be different species." – Eloísa Trinidad
Highlights for Episode 634: 
Eloísa's childhood growing up with her great grandparents in the Dominican Republic
Collective liberation and why it is so fundamental to her personal mission
How the Vegan Activist Alliance supports and educates activists to go beyond the streets
How Chilis on Wheels is making veganism accessible to communities in need and has expanded into a nationwide network

 

How the vegan community fridge operates and why Eloísa believes it is a project that activists in different locales can replicate to help promote plant-based lifestyles
Eloísa's work as New York chapter president of Hip Hop is Green
The Healthy Future Students and Earth Pilot Program Act and what Eloísa hopes can be accomplished by helping schools provide healthier, climate-friendly, and culturally appropriate plant-based meals
The impact of poverty on the food choices people make and why it's so important for activists to understand that not everyone has the privilege of entirely free choice

 
Connect with Eloísa Trinidad:
Connect with Our Hen House:
_____________________________________________
Thank you for listening to the Our Hen House podcast! If you enjoy our podcasts, believe in our mission to effectively mainstream the movement to end the exploitation of animals, find community and solace in our shows and resources, and would like to show your support for vegan indie media, please make a donation today.
You can listen to our podcast directly on our website, or subscribe on Apple Podcasts or your favorite podcatcher! Also, if you like what you hear, please rate it and leave us a comment on Apple Podcasts!
Don't forget to check out Our Hen House's other podcasts: The Animal Law Podcast, The Teaching Jasmin How to Cook Vegan Podcast, and the Antiracism in Animal Advocacy Audio Series.
The Our Hen House theme song is written and performed by Michael Harren.
__________________________
This episode is brought to you in part through the generosity of A Well-Fed World. A Well-Fed World provides the means for change by empowering individuals, social justice organizations, and political decision makers to embrace the benefits of plant-based foods and farming. Learn more at awfw.org.