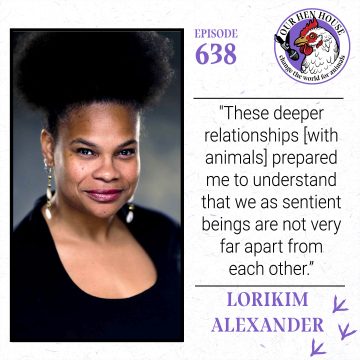 LoriKim Alexander can do it all—from her core organizing role with Black VegFest to her work in the fields of anthropology and biology. She joins us on Our Hen House to discuss how The Cypher, the organization she founded, places emphasis on veganism's true, anti-oppressive meaning. LoriKim shares how The Cypher started off as an educational, political book club on Facebook and how it evolved into an expansive, multigenerational, and multi-orientation space for Black femme leadership. LoriKim also tells us how she became involved with Black VegFest and the importance of having a community space where she, a Black femme vegan activist, can be her true self. 
Jamaican-born and world-bred, LoriKim Alexander has dedicated her life to working for social and environmental justice, specifically organizing around centering justice for LGBTQIA+, Black, Indigenous, and people of the global majority. She uses her work in biology, anthropology, and environmental education in a synergistic way to forward Black liberation. She sees veganism as a central platform for decolonization, food justice, and combating environmental racism to galvanize the struggle to liberate all marginalized beings. 
"These deeper relationships [with animals] prepared me to understand that we as sentient beings are not very far apart from each other." – LoriKim Alexander
Highlights for Episode 638: 
How LoriKim's childhood in Jamaica led her to a lifelong friendship with and admiration for animals
Why LoriKim's anguishing experience of farm-to-table eating transitioned her into veganism
Growing up with Lulu Belle the calf and how this experience helped her form deeper relationships with non-human animals
How vegan or vegetarian festivals can avoid being experienced as racist, homophobic, xenophobic, or misogynistic and how Black VegFest aims to create a community space
LoriKim's response to the pushback Black VegFest has received

 

How The Cypher connects Black and Indigenous LGBTQIA+ femmes of all genders so they can work together and share their voices

 

What the term "vegan minded" means and how it can be central to communities
Why The Cypher will be taking Black trans and queer femmes into the woods for hikes
LoriKim's biological and anthropological research and how it has influenced her work on environmental racism
The implementation of environmental education for people of the global majority on indigenous ecological knowledge and decolonization through veganism
How environmental racism impacts the everyday lives of Black people living in the US
Resources:
Connect with LoriKim Alexander:
Email: cypher.the@protonmail.com
Connect with Our Hen House:
_____________________________________________
Thank you for listening to the Our Hen House podcast! If you enjoy our podcasts, believe in our mission to effectively mainstream the movement to end the exploitation of animals, find community and solace in our shows and resources, and would like to show your support for vegan indie media, please make a donation today.
You can listen to our podcast directly on our website, or subscribe on Apple Podcasts or your favorite podcatcher! Also, if you like what you hear, please rate it and leave us a comment on Apple Podcasts!
Don't forget to check out Our Hen House's other podcasts: The Animal Law Podcast, The Teaching Jasmin How to Cook Vegan Podcast, and the Antiracism in Animal Advocacy Audio Series.
The Our Hen House theme song is written and performed by Michael Harren.
__________________________
This episode is brought to you in part through the generosity of A Well-Fed World. A Well-Fed World provides the means for change by empowering individuals, social justice organizations, and political decision makers to embrace the benefits of plant-based foods and farming. Learn more at awfw.org.