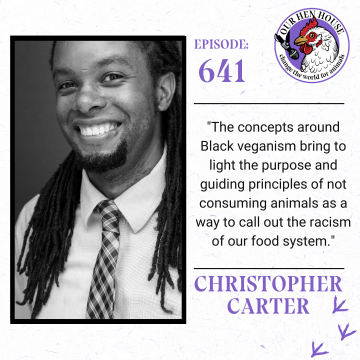 Dr. Christopher Carter joins us on the podcast this week to discuss his new book The Spirit of Soul Food: Race, Faith, and Food Justice. This groundbreaking work covers everything from the history of soul food to choosing how to eat in a way that helps us "live into our fullest sense of self."
Dr. Carter shares why he centers the discussion on three fundamental principles for eating practices—seeking justice for food workers, caring for the earth, and soul-full eating—and describes how soul-full eating helps us understand the impacts of our diets on not just our bodies, but on the bodies of animals. He also dives into a deep discussion of the meaning and practices of Black veganism and why it is a movement that can and should be embraced by all.
Dr. Christopher Carter is an assistant professor of theology and religious studies at the University of San Diego and a pastor in the United Methodist Church. While working on his doctorate, his dissertation—Eating Oppression: Food, Faith, and Liberation—would be the foundation for his recent book, The Spirit of Soul Food: Race, Faith, and Food Justice. He is on the board of directors of Farm Forward, an anti-factory farming nonprofit.
"The concepts around Black veganism bring to light the purpose and guiding principles of not consuming animals as a way to call out the racism that's in our food system." – Dr. Christopher Carter
Highlights for Episode 641: 
What soul food looks like and tastes like for Dr. Carter, plus why it has a considerable part to play in preserving and promoting community and passing on a particular kind of Black ancestral wisdom
Some of the challenges that white supporters of the animal rights movement might have in fully embracing the arguments in the book including the trauma of facing their own internalized racism

 

Why we need to embrace the interconnectedness we have with both human and non-human beings to reach a sustainable, transformative, and healing liberation

 

An ordained clergy member whose family history is intertwined with Christianity, food justice, and food sovereignty, Dr. Carter explores why his veganism is rooted in his religion and reimagines how soul food can help those who want to eat in a way that is consistent with their theological and social values
The current role of churches in food justice and why The Spirit of Soul Food places today's Black foodways at the crossroads of food, justice, and faith
Dr. Carter's views on how the anti-racist movement and the animal rights movement can work together to recognize that the food we grow, distribute, and eat disproportionately harms Black people specifically, and people of color among the global poor in general, and work towards decolonizing our diet in the US

 

Dr. Carter explores why Black veganism forces an examination of how the language of animality has been used to justify the oppression of any being who deviates, by species, race, or behavior, from white cultural norms
Whether white people can practice Black veganism and whether that authentically moves them beyond the stereotype of being an 'animal lover' and into the more complex arena of collective liberation

 

Dr. Carter shares his definition of 'flourishing' as a goal for individuals, humans, and animals and how it intersects with Christianity

 
Resources:
Connect with Dr. Christopher Carter:
Connect with Our Hen House:
_____________________________________________
Thank you for listening to the Our Hen House podcast! If you enjoy our podcasts, believe in our mission to effectively mainstream the movement to end the exploitation of animals, find community and solace in our shows and resources, and would like to show your support for vegan indie media, please make a donation today.
You can listen to our podcast directly on our website, or subscribe on Apple Podcasts or your favorite podcatcher! Also, if you like what you hear, please rate it and leave us a comment on Apple Podcasts!
Don't forget to check out Our Hen House's other podcasts: The Animal Law Podcast, The Teaching Jasmin How to Cook Vegan Podcast, and the Antiracism in Animal Advocacy Audio Series.
The Our Hen House theme song is written and performed by Michael Harren.
__________________________
This episode is brought to you in part by Meow Meow Tweet. Meow Meow Tweet creates vegan personal care for every body. Always ethical, low-waste, handmade & cruelty-free. They are also not only a Certified B Corp, but also certified plastic negative, climate neutral and leaping bunny certified. Right now Meow Meow Tweet is offering a discount for our listeners only! You can save 20% by visiting their website and using the code HENHOUSE at check out.
__________________________
This episode is brought to you in part through the generosity of A Well-Fed World. A Well-Fed World provides the means for change by empowering individuals, social justice organizations, and political decision makers to embrace the benefits of plant-based foods and farming. Learn more at awfw.org.